Blogged in $1 Membership, Hardcore, Naked Sword on July 7th, 2012


Tags: 1 dollar membership, Jacob Trent, Jeremy Stevens, Last Call, Naked Sword, Private Party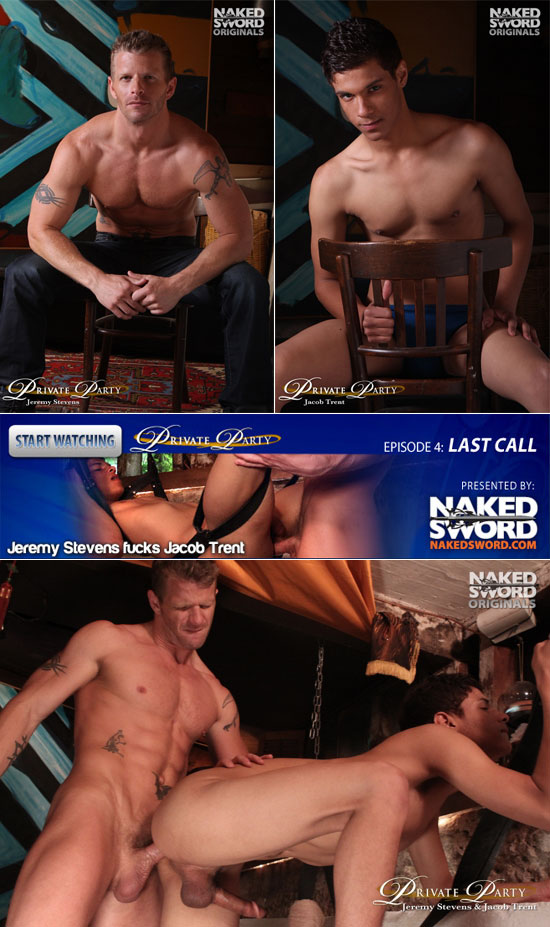 [flowplayer src='https://ilovejocks.com/vids/last-call.flv' width=550 height=310 splash='https://ilovejocks.com/vids/flowplayer.jpg']
Three weeks ago, Naked Sword released the first scene in the mini series "Private Party" and today the final episode (Last Call) has been added to the Naked Sword site. Private Party is another success for Naked Sword Originals and director Mr. Pam.
Ripped Jeremy Stevens takes a break from the animals in the orgy room for something a little more civilized. In an abandoned drawing room, he finds lean and mean Jacob Trent. Of course, there's only so much you can stare at a guy like that — a willing twink with a raging hard-on — before you drop the pretense and fall to your knees.
So it's not long before Jeremy is gulping Jacob's ready rock; Jacob is only too happy to return to the favor. But top-man Jeremy has his eyes set on another goal — the quivering, nearly virgin hole. He saddles Jacob doggie style, then moves him to a sling where he plows every last drop of cum out of the boy. Before he goes, Jeremy rubs out a massive load onto Jacob's smooth chest. Just a little something to remember him by.
Previous episodes: