Blogged in $1 Membership, Naked Sword on June 29th, 2012


Tags: 1 dollar membership, Bottoms Up, Damien Stone, Naked Sword, Private Party, Tony Hunter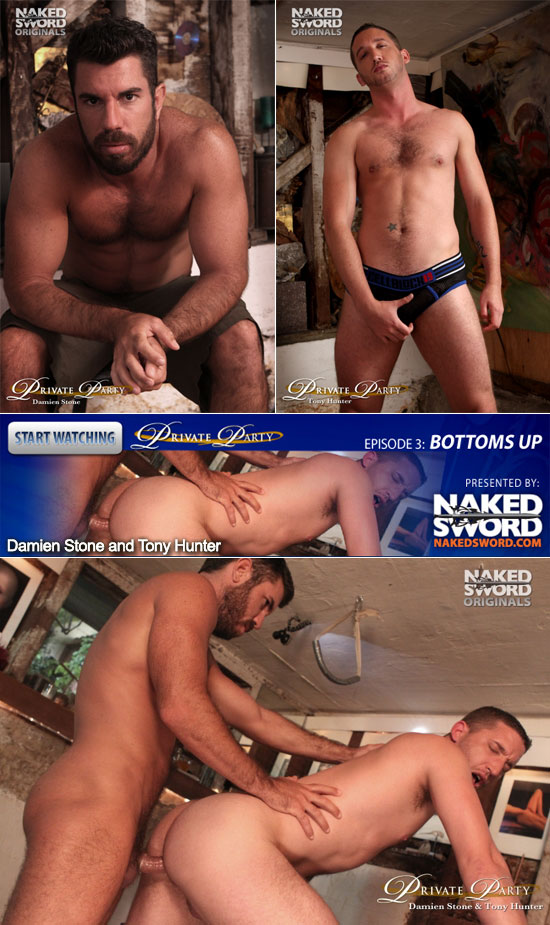 [flowplayer src='https://ilovejocks.com/vids/bottomsup.flv' width=550 height=310 splash='https://ilovejocks.com/vids/flowplayer.jpg']
Bottoms Up is the title of the latest Private Party episode. Damien Stone and Tony Hunter sneak off from the crowd to enjoy their own private fuck fest. There is plenty of ass eating to fill you to the rim in this scene, which ends with Tony riding Damien's cock like a true cowboy on a bucking bronco!
Damien Stone is on the prowl at San Francisco's most notorious private sex party, cruising darkened hallways and dank corners in search of his Holy Grail — a meaty ass that won't quit. Is it here? Damien peers into a bedroom and amid a sea of bodies sees the gleaming white cheeks of Tony Hunter. They're firm and plump, ripe for the harvesting. Damien goes in for the kill, burying his face in the hole like a bloodhound in the bushes of a duck hunt.
He drags Tony off to a private bedroom where, after warming him up with more voracious ass-eating, impales him on his thick cock. Tony is willing prey. He rides his Damien like a pig on a spit-roast, twisting and rotating into every conceivable position until both men burst, sweat dripping and juices flowing. Fingers, prepare to be licked.