Blogged in $1 Membership, College Dudes, Hardcore on March 3rd, 2014


Tags: 1 dollar membership, AJ Monroe, College Dudes, Ethan Travis, hunks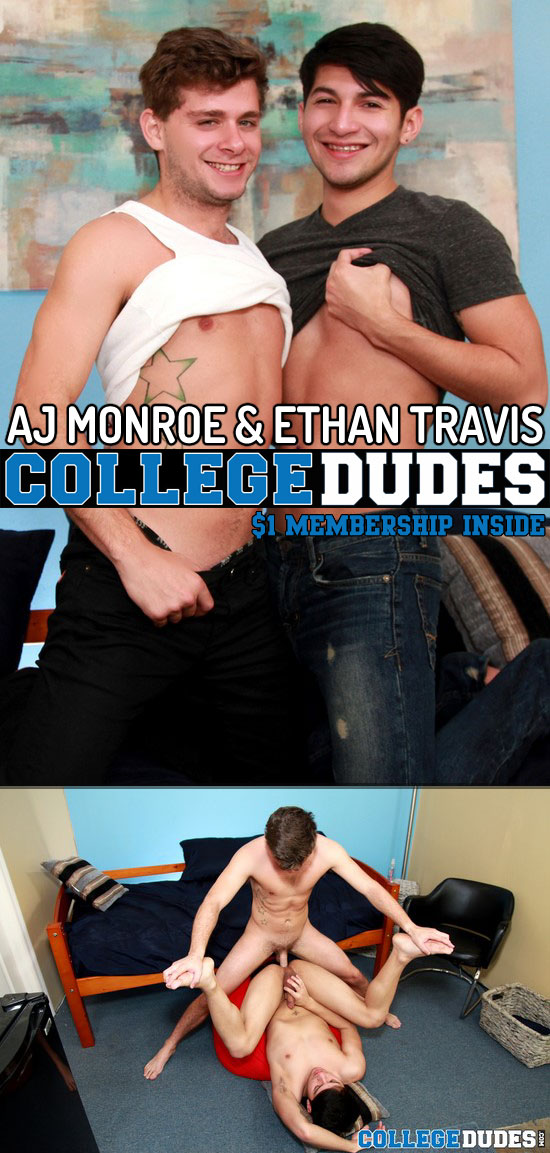 We love ass, and these boys have some of the finest ass we've seen!  They twerk a bit for us before AJ Monroe spreads Ethan Travis' ass wide open and gives us a sneak peek of that tight little hole that's about to get destroyed!  The sight of Ethan's juicy ass makes AJ crave some cock and he pushes Ethan onto the bed and chokes on his dick, making it grow before they switch places and Ethan gets a turn to gnaw on AJ's man meat. They exchange some very heated kisses in between and we get a nice view of their smooth, perfect bodies tangled together.
But that image of Ethan's delicious ass is burned into AJ's mind and it's clear he won't be completely satisfied until he claims that ass as his own!  He doesn't wait for permission before he fills Ethan's tight little asshole full of his rock hard dick and pounds him hard, making Ethan's ass cheeks bounce as he pumps him hard and smacks that ass again and again!
Ethan's ass gets red from the spankings as AJ fucks him, but he's a power-bottom and he's willing to take a little abuse in return for a whole lot of pleasure.  AJ takes charge once more as he dictates the next position, that domineering and demanding personality is sexy as fuck and submissive little Ethan agrees, shooting his load all over with AJ close behind.