Blogged in Hardcore, Men of Montreal, Trial Membership on December 29th, 2013


Tags: Alexy Tyler, dildo play, Max Chevalier, Men of Montreal, trial membership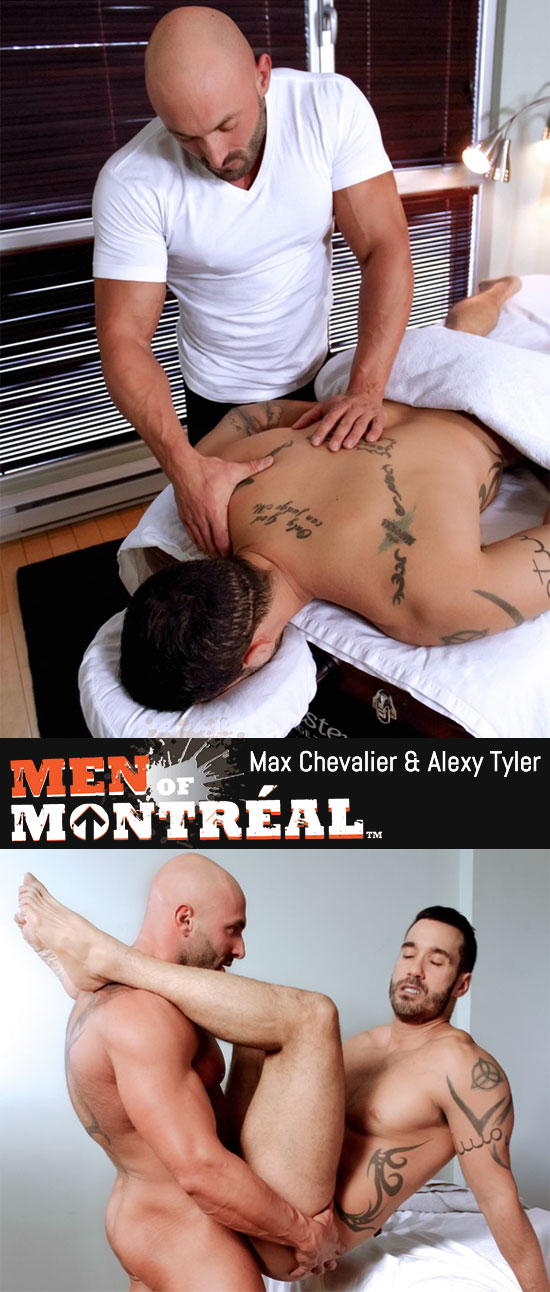 Max Chevalier and Alexy Tyler are two fit guys always ready for action. And Alexy is a bit of a toy fiend as he loves sticking things up his ass. When he came in for the shoot, he told us he was experiencing some pain in the lower back. This gave us the idea to have Max give him a nice backrub to take out some of the kinks… so to speak.Well, we pulled out the massage table and let the guys go at it. Max started to do his deed, slowly massaging Alexy's back and making his way down to his butt cheeks.
His patient was soon experiencing some tingling in his groin as his thoughts were going from his back massage to the huge cock tenting out of his masseur's gym pants. Max was doing a superb job of oiling up Alexy's tight asshole and bringing it to life.Alexy needed no more encouragement as he dove right into his masseur's mid-section and started sucking on our bodybuilder's hefty cock, throwing it back as far in his throat as possible. Max started to face fuck Alexy.
He then moved down as Alexy turned around exposing his bone hard cock. Our muscleman decided it was time for him to reciprocate. And he did, giving the deep-throat treatment that he had just received. Alexy was in heaven, moaning and gyrating.Alexy turned around again and this time Max used the opportunity to give his buddy a good rimming prior to pulling out a nice 8′ dildo to prep his bottom's ass for the soon-to-come fucking.
Alexy was again enjoying this butt play to the hilt… After some pretty firm dildo play, he was ready for a good fucking. Max moved to the other side of the table and just plunged right in knowing that his partner's ass had loosened up enough to take his big cock effortlessly.They initially started in a missionary position, then we were in awe as Max moved Alexy to the edge of the massage table and our bottom boy just held himself in position with his hands and arms, as his ass was being plowed in mid-air.
Max was pumping away. But this seemed to be Alexy's downfall, as Max got really excited and needed to unload his jizz. As he came on Alexy's balls and cock, our patient's back pain returned and Max, the gentleman, laid him on his back and pulled out the dildo again to help him shoot his load. It was a smoother ride than getting a hard fuck. A real trooper, Alexy took it all in stride. As they kissed in the finale, it was now time to give his back a rest.