Blogged in All American Heroes, Blowjobs/Oral, Hardcore on December 26th, 2013


Tags: All American Heroes, Blowjobs, cum swapping, Miles, oral, Paolo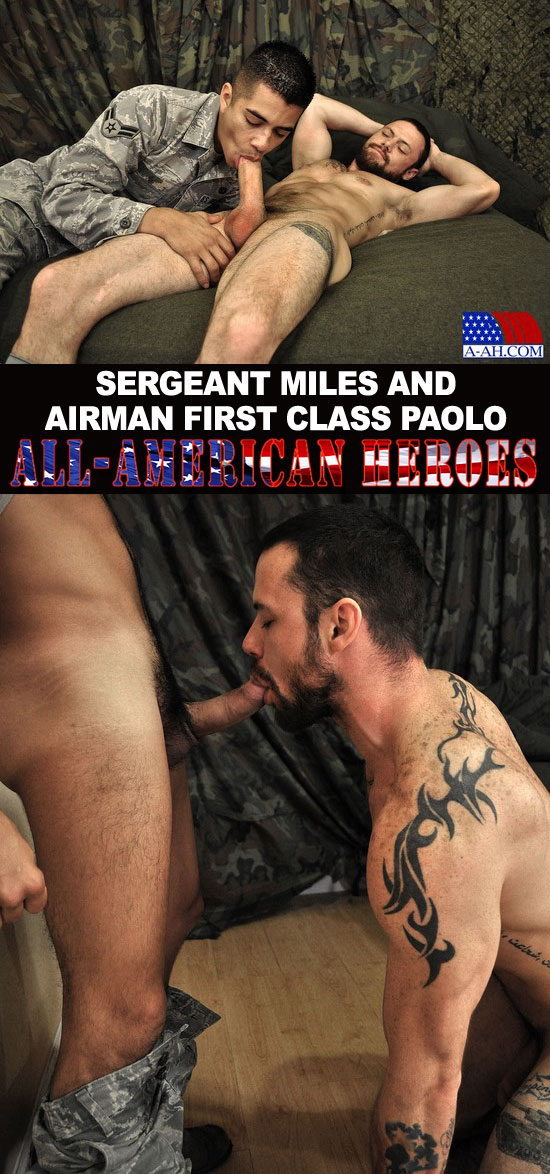 Sergeant Miles is taking Paolo back to basic training. Paolo has forgotten the rudiments of physical training. So Miles is happy to remind him. Miles is playing the typical mind games of a drill instructor, as well as working Paolo's body. Miles is towering over Paolo, with his crotch right at eye level. When he offers to let Paolo suck his dick, the airman is eager to oblige. As Paolo services his cock, Miles rips the rest his clothes off.
His muscular physique is adorned with several tattoos and a modest amount of chest hair. Paolo, still fully clothed deep throats the sergeant's meat, grabbing his ass to pull the cock closer to his tonsils. Miles decides to lay back and enjoy the service with his arms behind his head, in true rest and relaxation mode. He's really enjoying himself, but he wants something more. He stands and pushes Paolo against the wall, stripping his clothes off.
Now the sergeant drops to his knees and swallows Paolo's uncut stiffy. Hungry for some ass, Miles spins Paolo around and buries his face deep in his crack, grabbing his cheeks and spreading them for better access. Once his asshole is covered in spit, Paolo pushes the sergeant onto his back and face fucks him. Miles gags on the big uncircumcised piece while his own rock hard cock lays on his rippled stomach.
Paolo unloads a thick wad of goo into Miles' throat, covering his cheek and beard. Paolo leans down and snowballs his own jiz, spitting it back into Miles' mouth. They swap the cum back and forth several more times and Miles grins up at his partner.