Blogged in Hardcore, Next Door Buddies, Trial Membership on May 24th, 2013


Tags: Alex Christian, Mario Torrez, Muscle Jocks, Next Door Buddies, trial membership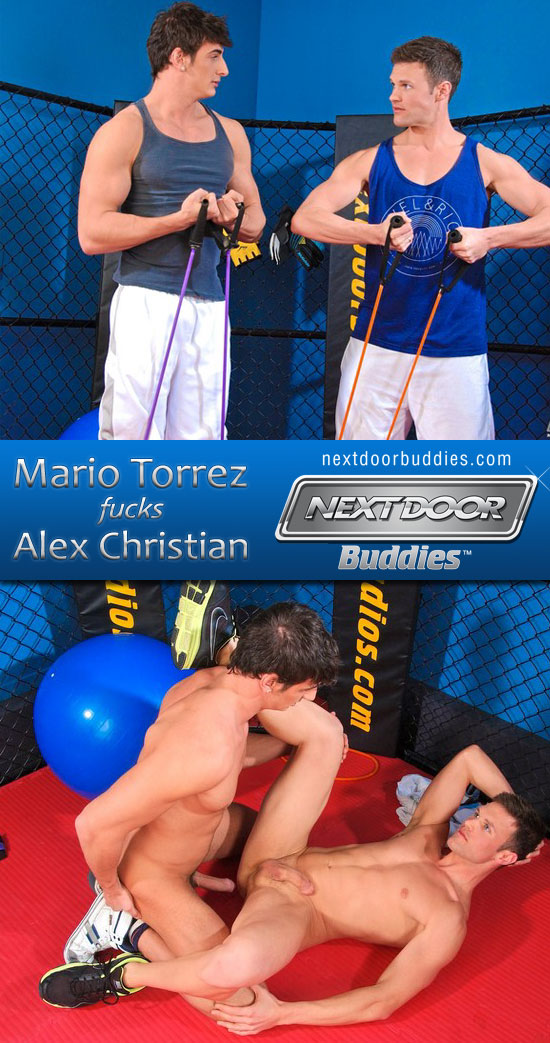 Mario Torrez and Alex Christian have a light day at the gym. Just some simple stretching and maybe a little cardio afterward. Nothing too heavy, nothing too taxing. As they go through their paces, Alex can't help but notice how nice Mario's arms look. Mario's muscles ripple from the sweat, and it's got Alex too distracted to continue. Mario notices the attention and encourages it, giving Alex a look that says he might be interested.
Throwing caution to the wind, Alex makes his move and Mario is more than receptive, and before they know it, quite suddenly, their light day has turned hot and heavy. Mario takes off his shirt as Alex runs his fingers down Mario's chest, dropping to his knees as Mario pops his cock out of his shorts.
Alex goes right to work, sucking on the head and jerking the shaft, and Mario responds with a dick so hard it could cut diamonds. Mario returns the favor as Alex leans back against a wall, then rolls Alex over and slaps his dick against Alex's ass crack, before sliding it in and pumping him from behind right there in the middle of the gym.
Alex throws his head back in satisfaction as Mario continues to work him, before Alex gets on top and rides Mario, his dick bouncing back and forth as Mario continues to grind from beneath, until Alex can contain himself no longer, launching a load of jizz all over his stomach, as Mario pulls out and blasts him with a second hot batch of cum.