Blogged in Hardcore, Men of Montreal, Trial Membership, Uncut Cocks on May 12th, 2013


Tags: Alec Leduc, Ben Rose, Men of Montreal, Muscle Jocks, uncut cocks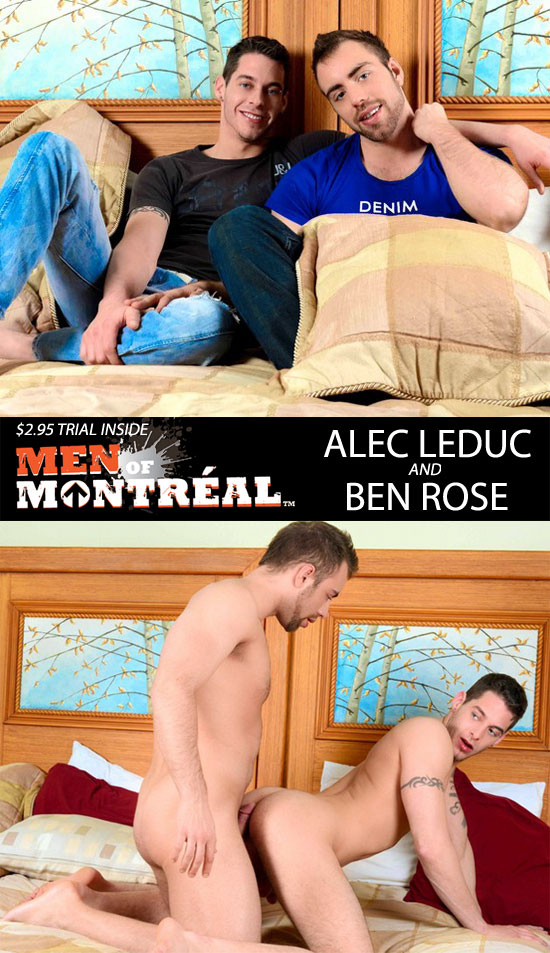 Ben Rose is becoming an avid bottom, and in this scene he really shows us how much he is enjoying getting fucked. Alec Leduc, for his part, has been beefing up his body with some more intense training and it shows with his enhanced pecs and abs. Once again, our friends at Maison Des Jardins Guest House were hosting us for this shoot and the guys showered and fondled each other in the glass enclosed shower stall, before heading to the bedroom for some intense sex.
Alec is still working himself up to bottom for us, but in this scene he continues his masterful ass fucking with Ben being on the receiving end. A lot of saliva was exchanged with these guys as they traded places in sucking each other, spitting and lubing up each other's dicks. Some guys choke when deep throating a cock, but Alec's reflexes make his eyes squint when he is going down on a guy's pole.
Kinda cute…After their mutual cock sucking, Ben gets on all fours to let Alec lube up his ass and do some cock-to-ass rubbing before sensuously shoving his hard dick into his bottom's perked hole. Alec's fucking got more intense and the guys moved into position for some hot reverse cowboy fucking. In this position, Ben had to stop jerking his cock a few times because he was getting too close to cumming.
But seeing his cock rhythmically bopping up and down each time Alec shoved his own dick deep inside was a hot sight. The guys were so into it and getting hotter by the second that they both got into position to shoot. Ben, lying on his back, unloaded such a huge load that the only thing Alec could say was "Wow!" Not to be outdone, Alec then jacked himself off and quickly unloaded a hefty loaded of his own that flew high up and landed as far as Ben's neck, adding loads of white jizz to Ben's already cum covered abs, chest and dick.