Blogged in Men of Montreal, Solo, Trial Membership, Uncut Cocks on February 7th, 2013


Tags: big cock, jerking off, Kenzo Masi, Men of Montreal, Solo, uncut cock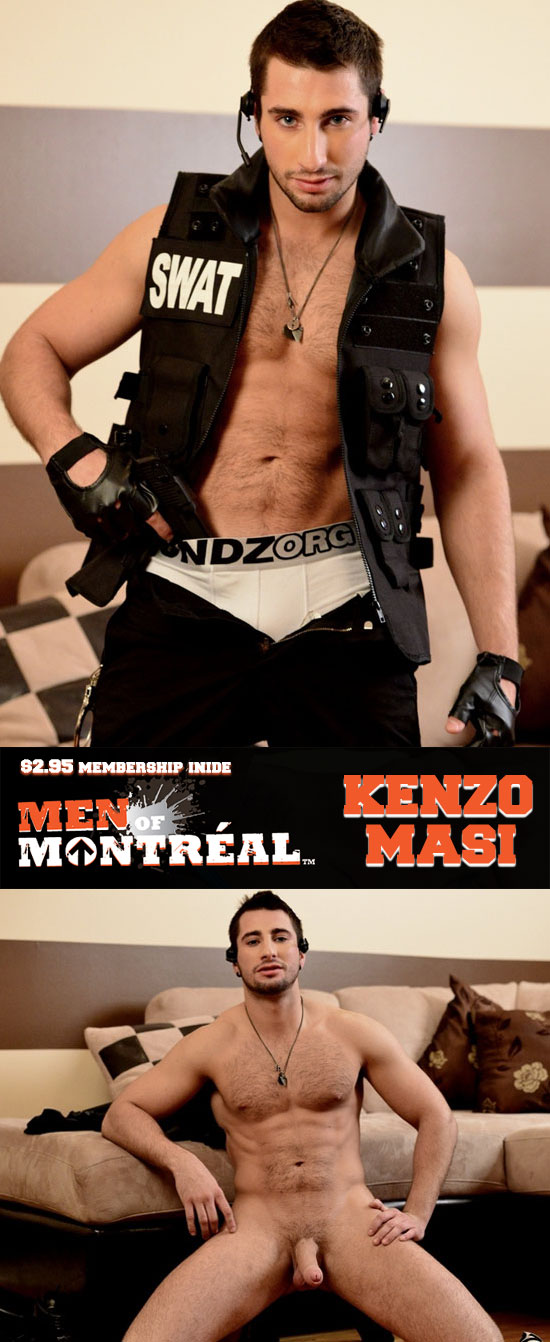 Kenzo Masi is of half Italian, half French Canadian descent. He works as a miner in the Northern reaches of Québec, and makes his way back to Montréal every few weeks, where he sidelines as a male stripper in one of the city's gay nightclubs. Soon to be 24 years old, this 5'8′, 165 lbs.
Pisces was very comfortable for his first time ever doing porn. Re-enacting his SWAT Team stripper routine for Marko Lebeau, he maneuvered his constantly hard 8′ caliber weapon with such ease, jerking off teasingly and rubbing its head with his abundant pre-cum.
When Marko asked him how big his tool is, he simulated grabbing it with both hands and said 7′… Honestly, too many of our guys tend to low-ball (so to speak!!) their cock size. He definitely sports a 7.5 or 8′ uncut dick. In contrast to many of the city's strippers, Kenzo actually keeps his body hair… Must be because of the extreme cold up North.
It's trimmed and really hot, and adds to his manliness!! And, he doesn't mind playing with his butt hole either. Kenzo was very playful throughout the day, and during the photo shoot, he decided to cuff his hand and cock together.