Blogged in $1 Membership, Hardcore, Men Over 30 on January 10th, 2013


Tags: 1 dollar membership, James Hamilton, Jessie Colter, Men Over 30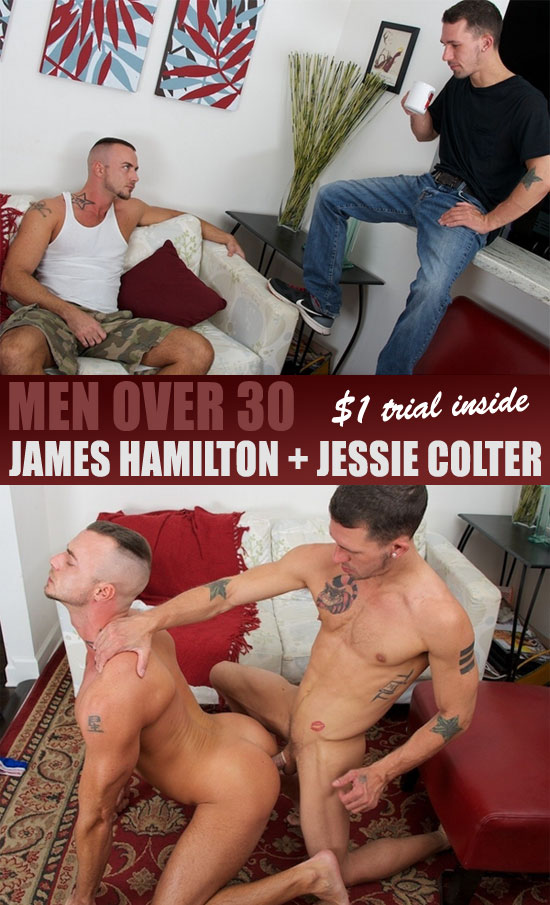 Lock those doors tight, cuz we got trouble in these parts as sexy Jessie Colter finds his way back to Men Over 30. Jesse is 30 and he's entertaining another fan favorite, James Hamilton, who at 29 will soon be old enough to be a member. James and Jessie are hanging out and debating what they're gonna do today. James is bored and the topic of maybe grabbing something to eat comes up.
"What did you have in mind?" asks Jessie suddenly becoming aware of the growing bulge in James' jeans. He moves over to the counter and grabs a handful. Lunch it is as Jessie helps James and his thick cock out of his clothes. Jessie is famished as he shoves that fat dick balls deep. He easily deep throats James' boner as James helps bounce his sweet mouth on it.
James is ready to place his order soon enough as he gets Jessie's cock out and helps himself. He gags on Jessie's thick cock as they take turns going at each other's hard cocks. Jessie services James then James pushing him off to return t he favor. James decides he wants to order a side of ass and slips his fingers and his tongue deep into Jessie's hole. Jessie squirms in anticipation as James jacks and licks his cock while roughly fingering that tight ass.
"Fuck my tight ass!" Jessie begs as James sits back and lets him help himself. Jessie sits right down on that monster cock and starts to ride it like a pro. James holds him still as he starts to ram his thick cock up into that hole. He reaches around and strokes Jessie's rock hard cock as Jessie bounces up and down on it.
That thick dick feels amazing as it stretches Jessie's tight hole wide open. James wants more control as he moves Jessie onto the floor taking him his bitch. Jessie groans with pleasure as James pounds that hot hole harder and deeper by the minute.
Jessie loves that cock but wants it harder as he flips on his back giving James better leverage to do so. James takes what's his as he slams that dick all the way up inside him. That sends Jess ie over the edge as his load shoots out all over him. James is right behind him as he pulls his cock out and sprays his own seed all over Jessie's furry chest and abs.