Blogged in $1 Membership, Circle Jerk Boys, Hardcore on January 31st, 2013


Tags: 1 dollar membership, Circle Jerk Boys, hunks, Hunter Page, Joey Cooper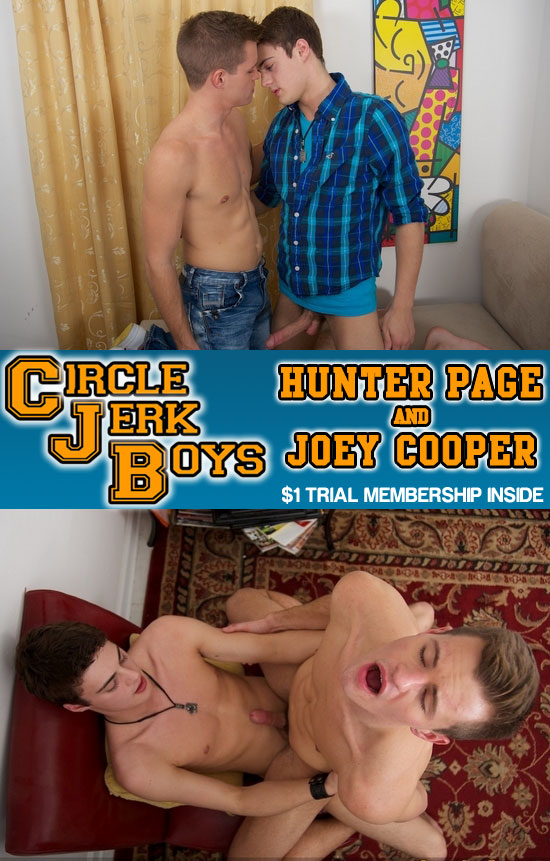 We have a double dose of hotness this week as we welcome back Joey Cooper and introduce Hunter Page to Circle Jerk Boys. Joey and Hunter are flipping through a skin mag looking at all the naked beefcake. "He's so hot in that pic he has me hard" says Hunter as Joey confesses that Hunter's the one that has him hard.
That's all the incentive Hunter needs as he lays back; undoes his jeans and lets Joey do the rest. Joey pulls off those jeans setting Hunter's fat cock free and gets to work sucking on that big dick. He holds it with one hand as he shoves as much of it as he can down his throat. Hunter dares him to take more of it as he forces his knob even deeper into his throat.
Hunter's cock is rock hard as Joey licks and savors every delicious inch of it. The start to make out as each strips the other's clothes off. Once Joey's naked Hunter bends him over and starts to explore that hot ass he'll soon own. He spreads that ass apart as he licks at his tight hole. He slips his fingers inside that ass as Joey squirms and moans his approval.
"You like those fingers?" Hunter taunts as he finger fucks that smooth hole. Hunter then gets to work sucking on Joey's cock returning the favor for a few before maneuvering into a hot 69. They now have all the cock they want at their disposal. As Hunter's sucking that cock he goes right back to fingering that ass as he gets his cock sucked.
He slides his tongue in getting that hole ready for a proper fucking. He then bends Joey over and takes that ass doggy style. Joey bucks back as he gets that hot hole crammed full of cock. He can't help but jack his own boner as Hunter pumps that hole. Hunter then sits back and has Joey ride that dick taking every inch of it deep inside his horny hole.
Then the party heads horizontal as Hunter takes that ass lying behind Joey. That makes Joey bust his nut all over himself. "You ready for my load?" Hunter coos as he jacks his cock off with Joey's face just below i t. Joey opens wide as Hunter sprays his thick seed sending it splattering all over Joey's smooth chest, face and open mouth.