Blogged in $1 Membership, Big Dicks, Extra Big Dicks, Hardcore on December 28th, 2012


Tags: 1 dollar membership, big cocks, Extra Big Dicks, Jacques LaVere, Sean Duran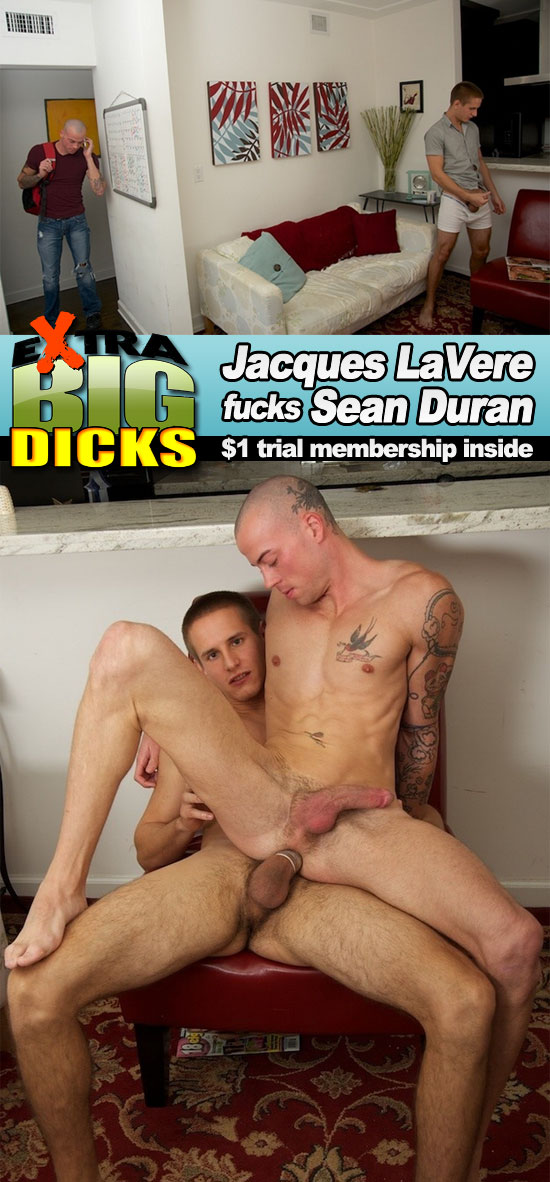 This week we welcome back hung, Frenchman Jacques LaVere to show off that big uncut cock. Helping him do just that is a new face to Extra Big Dicks, Sean Duran. Jacques gets up in the morning and makes it to the living room in his underwear that are tenting with his morning wood. He puts down his coffee and picks up a porn mag and can't help but haul out his monster cock right there.
He strokes that fat dick as his foreskin glides over his throbbing knob. Sean Duran heads out of his room headed to work and catches Jacques with his hands full. "What are you doing here?" exclaims Jacques quickly trying to cover his cock. Sean sits down and offers some help. Music to Jacques ears as he immediately holds up his boner for Sean's enjoyment. Sean is on his knees in seconds shoving that huge cock down this throat with ease.
Jacques is in awe as he watches his cock glide deep into his roommate's throat. Jacques can't get enough of that mouth as he face fucks Sean as fast and as deep as he can. They then stand and rub their cocks together as they compare equipment. "Why don't you fuck me with that?" says Sean who can't stand to wait any longer for it.
Jacques isn't complaining as he bends him over the couch and crams that fat dick deep inside that smooth ass. Sean groans, loving every inch of that cock he's taking. Jacques rails into that ass fast and hard as his balls slap against that ass he now owns. Jacques then pulls out and sits back to watch Sean ride that dick. "Grab my balls!" Jacques orders as Sean rides his fat cock with ease.
Missionary is next as they land on the floor. Jacques sits on the chair as he holds Sean's ass up in the air so he can pound it. His fat cock rams against Sean's sweet spot, sending him over the edge as he shoots all over himself. Jacques then returns the favor, straddling Sean's face and shooting his huge wad all over Sean's face. Sean laps up as much cum as he can before wrapping his lips around Jacque's cum-covered knob to get the rest.