Blogged in Hardcore, Southern Strokes on November 23rd, 2012


Tags: Blowjobs/Oral, fucking, Joey Vox, Southern Strokes, Tony Newport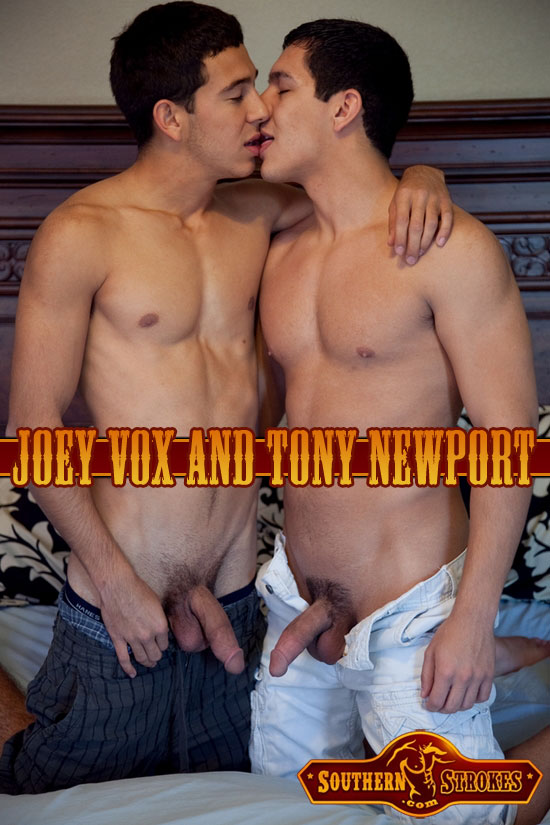 I've known Joey Vox and Tony Newport for quite a while but until they both were at the Ranch for the same time did I realize that they kinda look like each other. Tony being older than Joey, decided that he was going to give Joey a little lesson in fucking.
Both boys had been hanging out with hard cocks in their hands for a bit so I abandonded any preconcieved ideas on this pairing and turned on the cameras and let them do whatever they want. They weren't the only ones in the room anxious to get the cameras rolling.
Once we hit the on button, Tony leaned over and started sucked Joey's big hard cock. After Tony treated Joey to some oral pleasure, Joey turned around so that he could return the favor in his favorite position; 69. Primed and ready to go, Joey strapped on a condom and Tony climbed up on top to go for a ride.
Joey put Tony on all fours and entered him from behind and continued to pound away Tony's hot ass. The two boys fucked in another tree positions before our boys need to let it all out. They laid back on the bed and raced to jerk out their loads. Tony came first followed by Joey's self hosing.