Blogged in $1 Membership, Big Dicks, Hardcore, Men Over 30 on October 21st, 2012


Tags: 1 dollar membership, big cock, Jacques LaVere, Jessie Colter, Men Over 30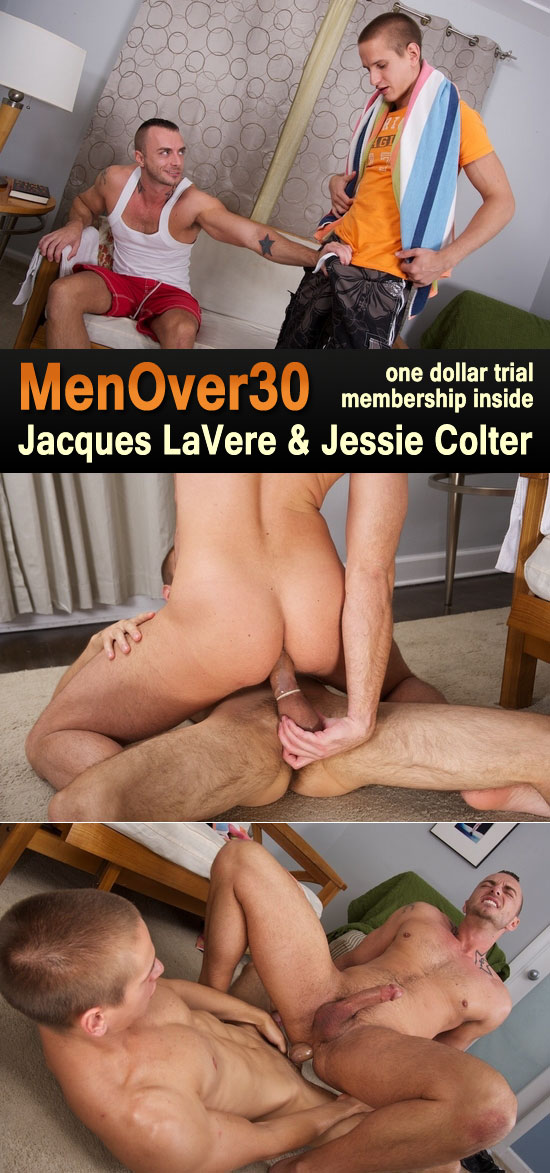 Men Over 30 pairs up two hotties, that really turned up the heat; Jessie Colter and Jacques LaVere. Jesse's waiting on Jacques to come out of the bathroom so they can head to the beach. When he does make it out, Jesse realizes Jacques packing more than just lotion in his swim trunks. Jesse quickly kneels in front of the huge tent in Jacques swim trunks as he gets a closer look.
He hauls out Jacques massive uncut cock and gets to work. He wraps his lips around it as he swallows every inch he can. Jacques moans in ecstasy as he watches his dick disappear into Jesse's hungry mouth. Jesse savors that dick and as he runs his tongue up to explore Jacques smooth abs and pecs Jacques starts to finger that ass. That's all it took for Jacques to get behind that ass and ram his hard dick inside.
Jesse grunts as he tries to accommodate that fat dick inside him as Jacques gets right to pounding that hole. He holds Jesse by the waist a s he rails his meat deep as Jesse groans, taking every bit of it. They switch things up as Jacques lies back on the floor and has Jesse sit on his dick. Jesse groans and whimpers as he starts to ride that cock telling Jacques just how good it feels buried inside him.
That just gets Jacques hornier as he starts to jack-rabbit that fat dick up into his ass even harder. Jesse reaches around and plays with Jacques nuts that are packed with cum he'll get soon enough. Missionary is next as Jacques gets those legs in the air.
Jesse is whimpering awash with pleasure and pain as Jacques continues to plow his hole. Jacques dick slides inside that worn ass with ease as he sends Jesse over the edge. He shoots all over his abs and chest as Jacques pulls out and follows suit. Jacques stands over Jesse as he jacks off and bathes him in his cum.
Relevant links: