Blogged in $1 Membership, Hardcore, Men Over 30 on October 26th, 2012


Tags: 1 dollar membership, Brian Bonds, gingers, Men Over 30, red heads, Steven Ponce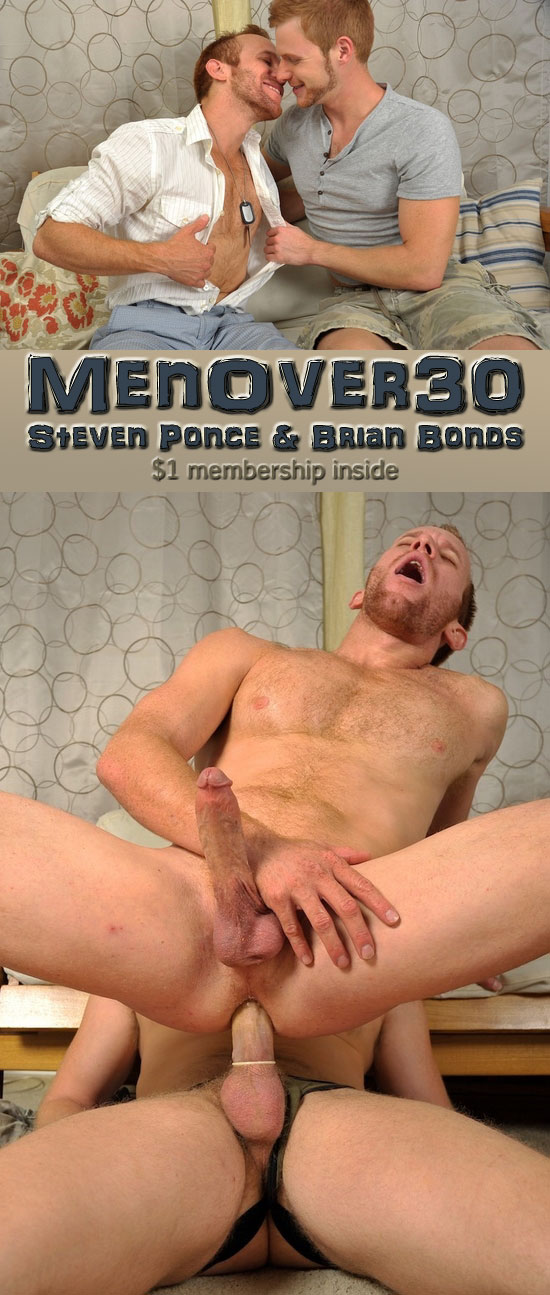 Ginger alert! This week on Men Over 30, we've doubled up as we welcome back horny red head Steven Ponce and his co-star, on and off camera; Brian Bonds. Steven and Brian are toasting to finally moving in together. Once they toss back some bubbly they look at each other and the fireworks begin. They start to make out as they grope each other each one helping the other out of his clothes.
Steven slides onto his knees as he laps at Brian's growing cock as it strains to get out of his briefs. Brian just gasps as Steven pulls it out and takes it in his mouth. He sucks on that cock hard and deep as he slides it down his throat. Steven gags on it wanting to take it all down as Brian just watches his lover service his meat. Brian then gets Steven on the couch and kneels before him as he sucks on his toes and licks his feet.
Steven plays with Brian's hard on with his feet before Brian goes down on Steven's cock. Steven is rock hard as he finally gets the attention he needs on that cock. From there they take the festivities to the floor as Brian gets on all four and shows off that spectacular ass. Steven gets right to work eating that ass as he buries his tongue deep inside that smooth hole.
Brian then gets on the floor and has Steven squat on the couch so that his ass lands on his face. Steven then rides his beau's tongue as Brian eats that hole deep. Steven writhes in ecstasy as he gets tongue fucked and hornier for much more than that hot tongue in his hole. Steven gets off the couch and sits right down on Brian's hard cock already waiting for him.
He impales himself and starts to ride that dick as he bounces up and down on it. Steven then sits back down on Brian's meat as they make out and Brian bounces him on his hard cock. Steven grunts as he gets that ass plowed deep.
Brian lies back and plows Steven even harder as Steven goes over the edge blowing his load all over Brian. He then gets down and makes out with Brian as he helps Brian bust his own huge wad all over his cum-covered chest as jet after jet of cum shoot all over his abs and chest.