Blogged in $1 Membership, Circle Jerk Boys, Hardcore on October 20th, 2012


Tags: 1 dollar membership, Circle Jerk Boys, hairy, Joey Cooper, Josh Long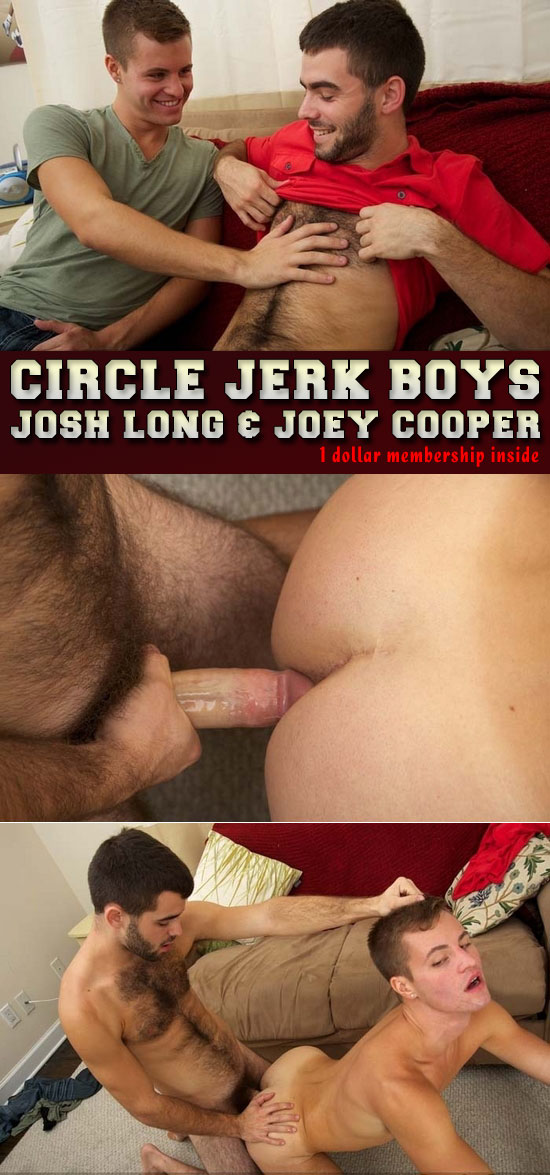 Josh Long is back on Circle Jerk Boys and joinging him is cute new commer Joey Cooper. Josh is telling Joey about getting picked on by his friends for having so much chest hair. "They were telling me to take off my shirt', he says pulling off his shirt 'even though I was shirtless." Joey reaches over and feels his chest and tells him he likes his hairy chest before pulling off his own shirt to show Josh his is completely smooth.
Joey then moves in for a closer look as he licks Josh's nipple. One thing leads to another and soon Joey is on his knees with Josh's rock hard cock in his mouth. Josh moans as he slides his dick deep into Joey's mouth. Josh then gets Joey on his feet so that he can give him some of the same. He slurps on Joey's cock slobbering all over his rock hard cock.
After getting his fill he stands up as they start to make out while rubbing their hard cocks together. Josh's cock still needs some attention so he gets Joey on his floor so that he can fuck that mouth some more. His hairy ass is on display as he straddles Joey's face and as his cock slides down Joey's throat his hairy nut sack slaps against Joey's chin. Josh is ready for more as he gets Joey on all four. "You got such a nice tight ass" Josh groans as he starts to fuck that hole fast and deep.
Joey loves it as he begs for more. They stand up as Josh bends Joey over and keeps tapping that smooth ass doggy style. His low hanging balls slap away as he buries that dick deeper and deeper. Josh then switches things up and lies back on the floor as Joey straddles that dick. He starts to ride him in a reverse cowgirl as he leans back and bounces that tight hole on Josh's rock hard cock.
Josh then gets Joey on his back and gets right back in that ass missionary to bring it home. He fucks him faster and hits Joey's sweet spot. That does the trick and sends Joey over the edge as his cock explodes all over him. He shoots wave after wave of cum all over his smooth chest and navel. Josh isn't far behind as he pulls out and jacks his own thick load all over Josh's cum-covered cock and abs.
Relevant links: