Blogged in $1 Membership, Big Dicks, Blowjobs/Oral, Extra Big Dicks on September 13th, 2012


Tags: 1 dollar membership, big cocks, Daniel Leon, Extra Big Dicks, facial, Steven Verano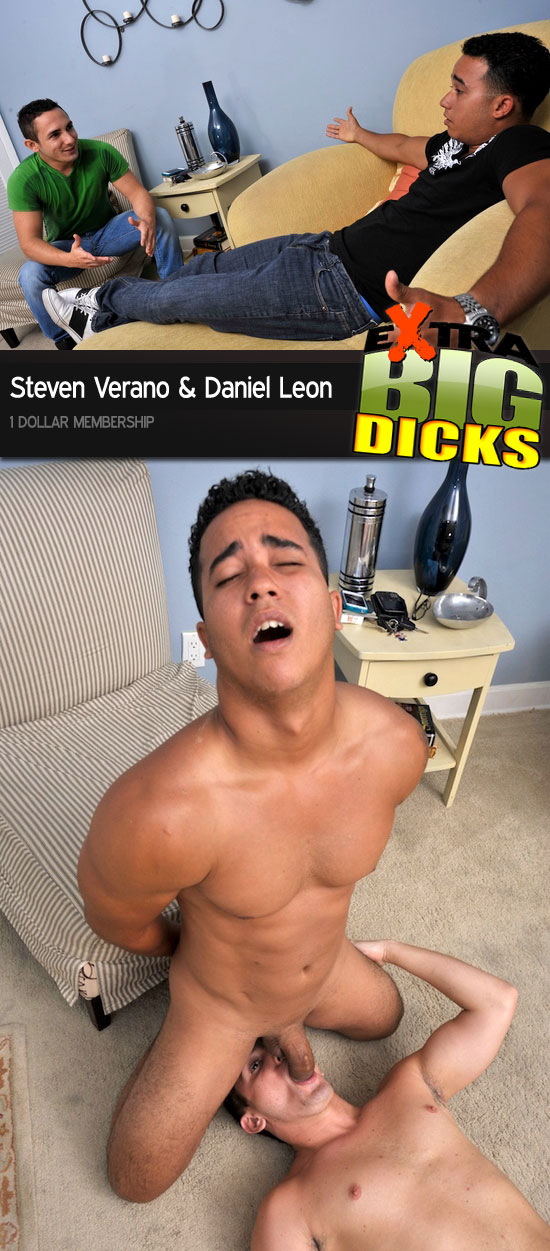 Latin Fever has hit the set this week on Extra Big Dicks as we welcome back Steven Verano and introduce Brazilian hottie Daniel Leon! "So, you've never gotten a blowjob from a man?" Daniel asks as Steven assures him he hasn't. "I don't think it works with a guy", Steven tells Daniel who isn't about to let that stop him from trying. Daniel moves in as he grabs Steven's crotch and tells him there's only one way to find out.
Steven lies back as Daniel rubs his cock that starts to come to life. He pulls off Steven's jeans and briefs as he finally gets his hands on the Cuban equipment. Steven has an interesting cock, as he has three pearls embedded along the top of his shaft.
Daniel opens wide as he takes his growing meat into his mouth. He laps at Steven's growing dick, sucking it deep as he strokes it with his hand pulling his thick foreskin back over the head. "You're going to be my bitch?" Steven teases as he grabs Daniel by the head and starts to bob his head on his growing dick.
"Don't stop" Steven orders as Daniel gets caught up in the moment. Steven's fat dick is ! at full mast by now and stretching Daniel's mouth wide open. Steven stands to get a better angle at the mouth and throat. He starts to fuck Daniel's hot mouth as he strokes his fat cock in his face. Daniel licks at Steven's smooth balls as Steven gets into it, slapping Daniel's face with his thick cock.
Steven then sits back on the chaise to let Daniel worship that dick some more. He gets comfortable between Steven's thick thighs as he nurses on that fat Cuban cock licking inside his thick foreskin and sucking on his balls. Steven's in ecstasy as he gets that dick serviced by a guy. Daniel then gets on his back as Steven kneels over his head and slides his dick in for more.
Daniel just nurses on his meat like a hungry calf as Steven watches his dick disappear down Daniel's throat. "You want my leche, bitch?" Steven taunts as he starts to jack his dick off inches from Daniel's mouth. Daniel opens wide as Steven unloads all over his face and tongue making sure Daniel tastes his Cuban cream. As Daniel laps it up, and Steven's warm cum runs down his face, Daniel shoots his own load all over himself.