Blogged in Dirty Tony, Hardcore on September 26th, 2012


Tags: America, big cock, Caleb Colton, Dirty Tony, uncut cock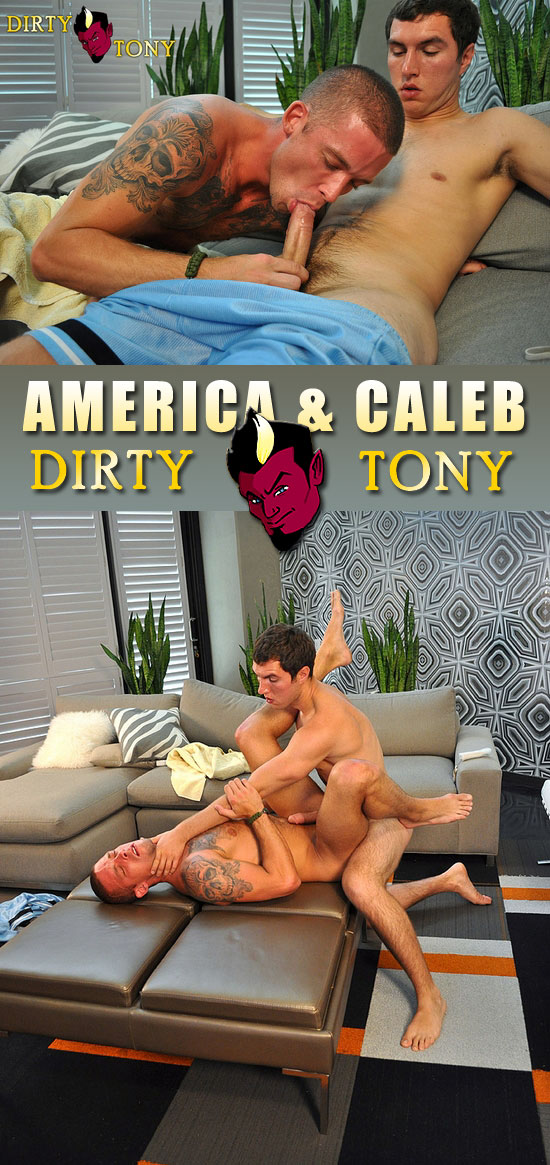 America is sitting on the sofa playing a video game and feeling a little frustrated. Caleb's on his way out of the shower and asks his buddy what the problem is. When he finds out that America's cock is too big for his girlfriend to suck, Caleb is all about finding a solution. He begins massaging the monster beneath his nylon shorts.
He whips it out and starts swirling his tongue around the end of the uncut turkish sausage. America kicks back and lets his buddy work on his cock better than any girl could. As Caleb whips off his towel, his own stiff cock is revealed. He's ready to do more than just suck his straight buddy off.
He climbs up onto America's lap and starts to ride him cowboy style. America's giant dick is splitting his sphincter and Caleb is enjoying every minute of the pleasure-pain he's experiencing. America wants to take control so he stands up with his cock still plunged inside his buddy. Laying Caleb gently on the table, he begins stuffing his cock deeper and deeper into Caleb's gape.
As he's getting pounded, Caleb edges closer to ecstasy. He chest heaves and giant globs of goo pulse out of his dick and coat his hand and stomach. America's also turned on and ready to blow. So he waves his uncut dick in Caleb's face. Wanting to show his buddy how to give a real blow job, Caleb catches the thick jism in his mouth, swallowing and slurping it's salty goodness.