Blogged in Cody Cummings, Threesome, Trial Membership on June 2nd, 2012


Tags: Adam Wirthmore, Cody Cummings, James Jamesson, Muscle Jocks, threesome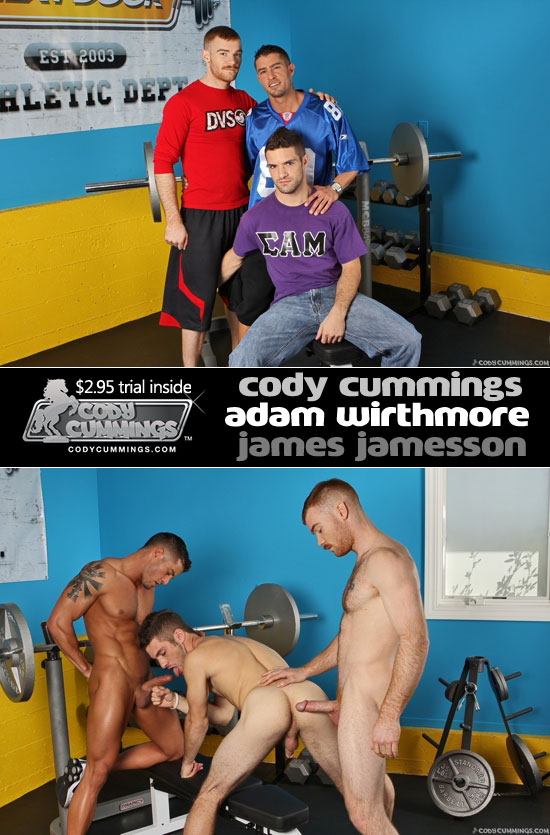 [flowplayer src='https://ilovejocks.com/vids/cody-adam-james.mp4′ width=550 height=310 splash='https://ilovejocks.com/vids/flowplayer.jpg']
You've gotta wake up pretty early in the morning to pull one over on Cody Cummings. But the notorious Next Door Stallion has a surprise in store! Cody thinks he's arrived on set for a solo session with a very hot, very adult DVD waiting for him. Little does he know, two guests are waiting to join him at just the right moments.
As Cody enjoys what turns out to be only a warm up, Adam Wirthmore slides onto the set to help him out. See Adam take Cody's hard, fat cock with pleasure while he gets face fucked good. And just when Cody thinks there are no more surprises, the one-and-only James Jamesson pounces from the wings, sticking his already swollen dick into the mix.
Now Adam is taking turns on each large dong, sometimes putting both in his mouth at once. It's not long before James manhandles Adam into positioning himself to get stuffed at both ends. "Do you know how many people get this opportunity?" he asks cock loving Adam. "Not many," would have been the best answer, had Adam's mouth not been chock full of Cody's enormous man meat. Settle in and prepare for a super-sexy locker room treat when the benchwarmers cum in to relieve Cody.