Blogged in Big Dicks, BulldogPit, Hardcore, Trial Membership, Uncut Cocks on June 28th, 2012


Tags: big cocks, Brett Carter, Bulldog Pit, Clayton Kole, lads, uncut cocks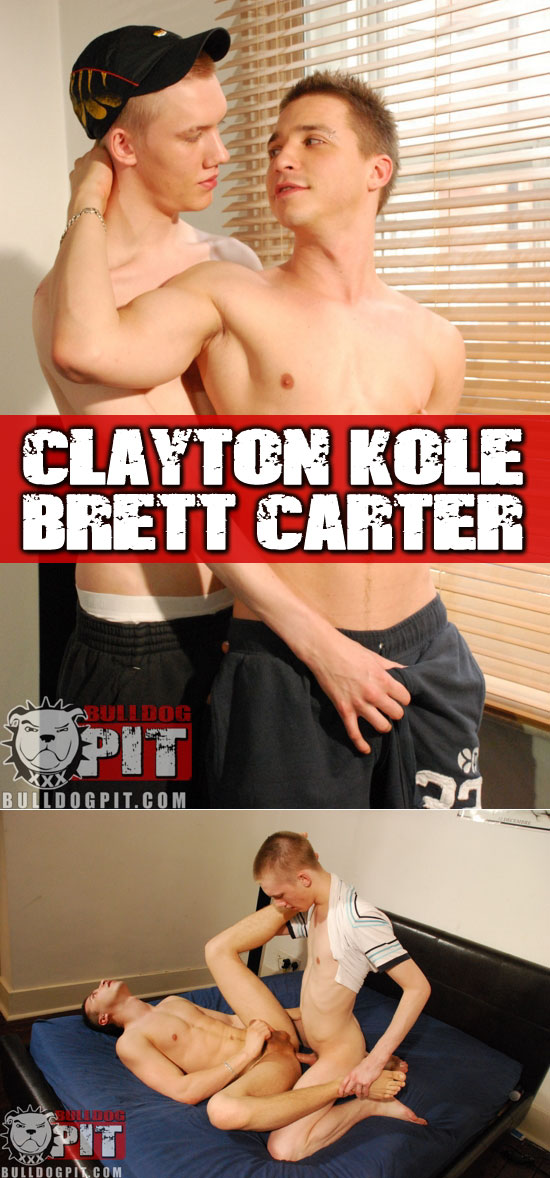 [flowplayer src='https://ilovejocks.com/vids/clayton-brett.mp4′ width=550 height=310 splash='https://ilovejocks.com/vids/flowplayer.jpg']
Slim, smooth scally-boy Clayton Kole and toned, tanned Brett Carter start things off in the bedroom, as Brett gets to work tearing off Clayton's dirty trackies and displaying the monster bulge lurking underneath! There's some amazingly hot blowjob action here, with both boys gagging on the other's fat cocks, Brett's broad, muscled physique a contrast to Clayton's slender frame and fair skin.
Soon though, Clayton's getting the urge to slam his dirty great fuck rod as far up inside Brett's eager, peachy butt as possible. After a long wet rimjob to loosen up the tight little hole, the blonde boy's gargantuan donkey dick is forced inside Brett, right up his swollen balls, stretching the dark-haired stud's ass to epic proportions.
Insatiable Clayton likes to fuck hard and he rams the fucking shit out of Brett, who sweats like the dirty bastard he is while he's pounded relentlessly. Brett jerks himself into a frenzy and after what seems like a marathon fucking session both boys cum like fountains, with Brett's sweet lips getting coated in gallons of the stuff, before he licks it off and swallows every drop!