Blogged in $1 Membership, Big Dicks At School, Hardcore, Men.Com on May 6th, 2012


Tags: 1 dollar membership, Big Dicks At School, Cliff Jensen, Men.com, Ryan Sharp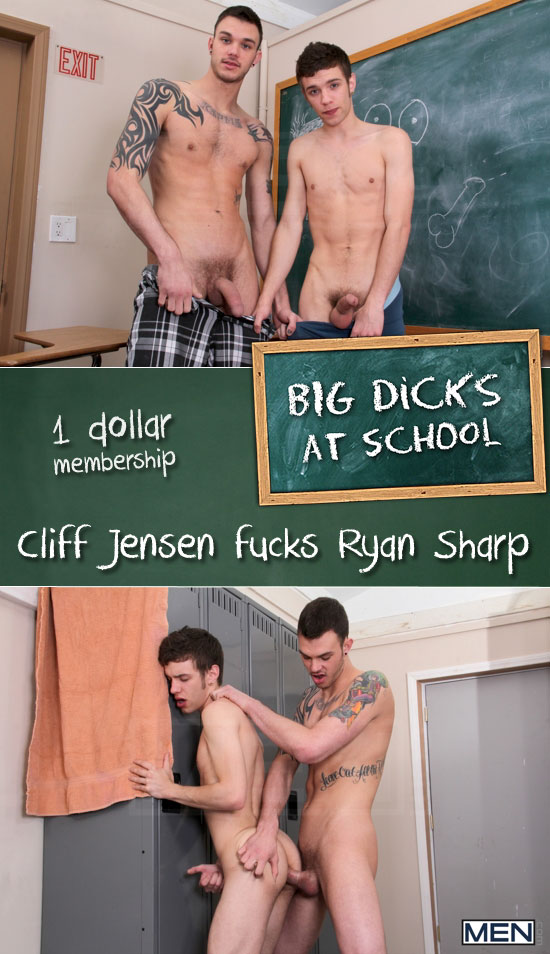 [flowplayer src='https://ilovejocks.com/vids/cliff_ryan.mp4′ width=550 height=310 splash='https://ilovejocks.com/vids/flowplayer.jpg']
The big dicked Cliff Jensen and his fellow student Ryan Sharp discuss the ass of a class mate. Ryan tries to convince Cliff that his ass is hotter than the ass of the female class mate. Cliff doesn't believe him and dares Ryan to show him his ass. Ryan lowers his pants to show off what he's got. Cliff is impressed by his beautiful bubble butt. One thing leads to another and soon the two students are comparing their dicks.
Both guys have nice sized cocks, but Cliff's cock is just a little bigger. Ryan offers him a blowjob and Cliff agrees without hesitation. He also returns the favor by blowing Ryan's cock in a hot 69 position.
The blowjobs got Cliff all horned up, which only makes him want to fuck Ryan's ass more. That's exactly what Ryan had in mind and he's quick to offer his tight ass. Cliff pushes the head of his cock against Ryan's butt hole and slowly pushes his dick inside. It doesn't take long before he pounds that ass hard and deep. Ryan can't believe he's finally getting fucked by the hottest boy of the school.