Blogged in Gay Porn News on May 1st, 2012


Tags: Active Duty, Axl, nazi symbols, racist tattoos, tattoos

Remember Axl from Active Duty? It's the guy with the racist tattoos, who said the tattoos don't mean a thing. In the most recent video in which he is paired up with new recruit Tucker, it seems Axl went back to the tattoo shop to erase some of the symbols on his body.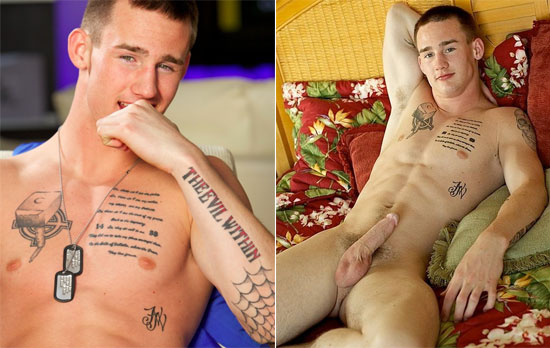 The numbers on his chest have been covered with black ink now.
The number 14 refers to the 14 words in the famous sentence from white supremacist David Lane, "We must secure the existence of our people and a future for white children."
The number 88 stands for HH (H is the eight letter in the alphabet) and stands for Heil Hitler
This either means, Axl really didn't know what the numbers meant at the time he got that tattoo or he was just getting tired of the comments he was getting constantly.