Blogged in Hardcore, Orgy, VideoBoys on April 21st, 2012


Tags: Bobby Long, foursome, Justin Lebeau, Lukas Wild, sex slave, Silvio Costa, uncut cocks, VideoBoys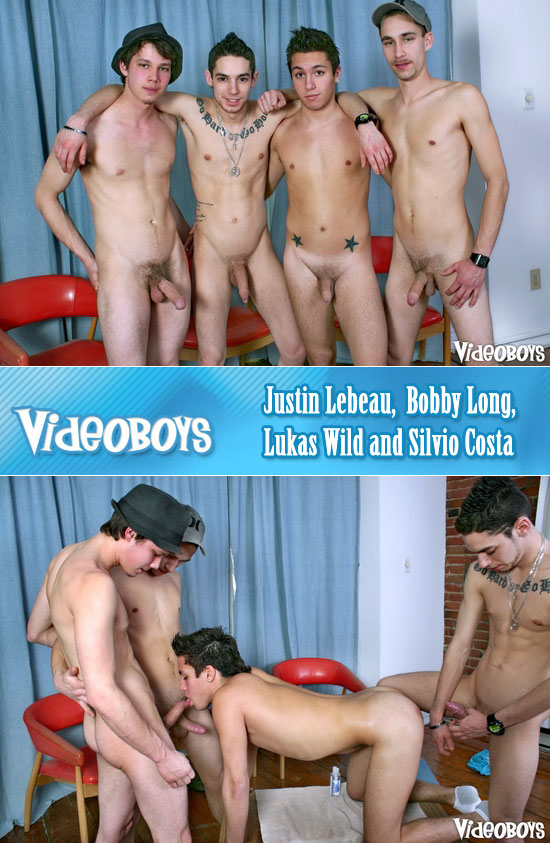 Three of our all-time favourites, the All-Star team of VideoBoys, Justin Lebeau, Bobby Long and Lukas Wild needed an excuse to unwind and do what they do best as a team. And Silvio Costa was the perfect excuse.
Even at the young age of 18, Silvio has a very well developed sense of his strongest desires. The simplest way to describe it is "Sex Slave". He doesn't want to make any decisions about what to do in sex and he doesn't want to be treated with too much respect. Toss him around, make him suck you, fuck him and especially slap him. Slap his ass enough to make it red, slap his face with your cock. But to top it all off, to make it really special, all the guys involved have to cum on him. And the more guys cumming on him, the more he loves it.
The entire All-Star team, Justin, Bobby, Lukas, were definitely up for making Silvio's dream come true. But it was Bobby who really took a special interest in making our sex slave happy while making himself happy in the process. Bobby took Silvio in hand right from the start, getting Silvio to suck his cock and then generously shared out Silvio's mouth with his friends.
Once everyone had a little turn, Bobby took it up a notch by shoving his big dick in Silvio's ass. After everyone had had a chance to play with the slave boy, it was time for Silvio to get his sperm bath. Our All-Stars gave the slave boy more than he could have hoped for.