Blogged in Bareback, Hardcore, Sean Cody on April 5th, 2012


Tags: bareback, Brice, Calvin, Muscle Jocks, Sean Cody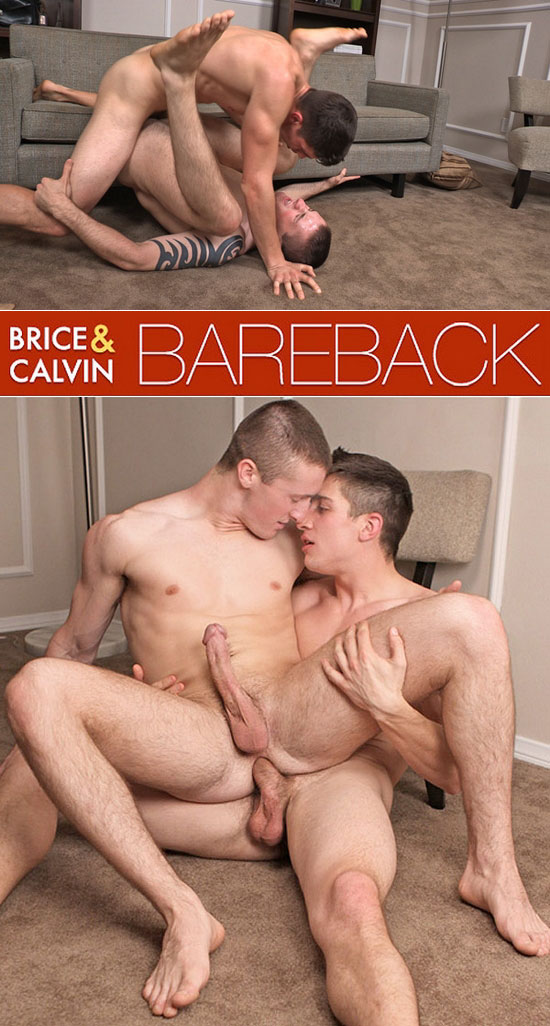 "Holy shit he's really hot!" Brice confided, just seconds after meeting Calvin. "I haven't bottomed since like March or May of last year," he continued. "But I'm really excited!" Calvin had all kinds of ideas about what he wanted to do.
"What if before I fuck him I really open his ass?" he suggested. "Like get all up in there and really stretch it out… then lick it… finger it with two or three fingers… maybe a dildo!" "We can't break the bottom," we reminded him. "Well, at least not right away!" Brice had a big smile on his face. Calvin laughed. "I love this place," he chuckled.
Brice was wearing a jock strap and he wanted to leave it on… at least for a little bit. "It feels like the jockstrap makes it more rough…. I like it rough!" he admitted. Brice absolutely loved getting fucked by Calvin! "His dick is so beautiful!" he said.
By the time they were close to cumming, both models were more than excited. "I've been fucking his ass all day… I'm so god damn horny and wanna cum in it!" Calvin told us.
And that's what he did! While Brice was busy shooting all over his face and in his mouth, Calvin was shooting his load onto Brice's hole. He let the cum build up and pool before he shoved it in deep!