Blogged in CockyBoys, Hardcore on April 17th, 2012


Tags: big dicks, CockyBoys, jocks, Max Ryder, Tommy Defendi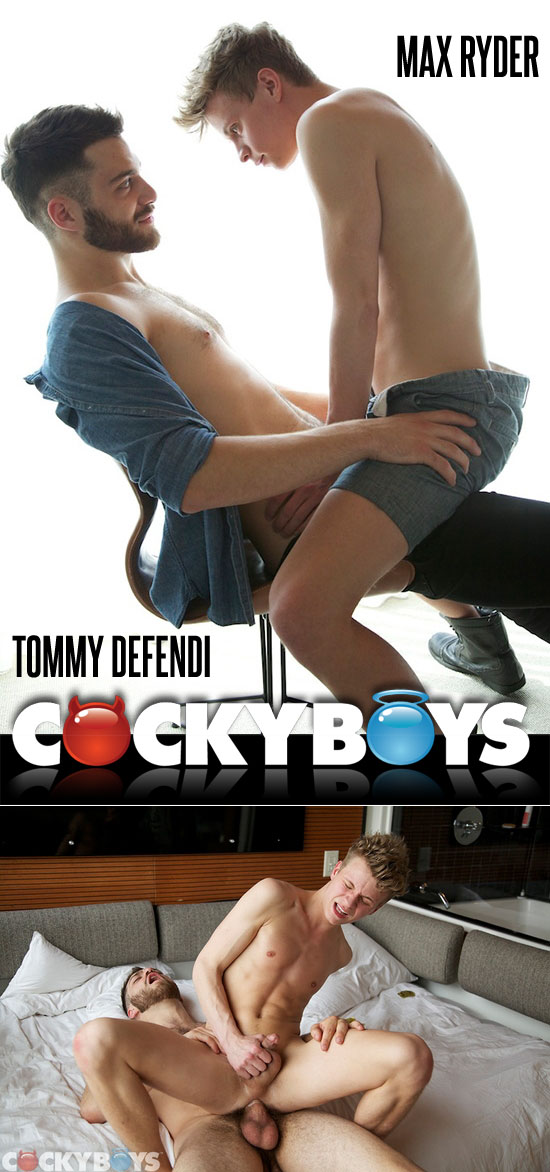 [flowplayer src='https://ilovejocks.com/vids/tommy_max.flv' width=550 height=310 splash='https://ilovejocks.com/vids/flowplayer.jpg']
Wow! What a success has Max Ryder been since his solo scene went live a couple of weeks ago. His vulnerability and boy-ish looks are capable of capturing any man's heart and melting it down then boiling it up to 1000 degrees in a matter of seconds. He is both innocent and devilish at the same time.
When it came to picking the right guy to initiate him on the site I wanted to make sure it would be with someone who will keep him safe and protected but will also bring that little devil out and let him play for as long as his little heart (and ass) could handle it. It was obvious that Tommy Defendi was the perfect choice for Max. The only problem, which wasn't really a problem but more of a challenge, was Tommy's dick.
Next to Max, Tommy's humungous cock is half the size of that boy! So the day for these two to meet finally arrived. It was the day Tommy was doing his live webcam show on Cockyboys and Max was planning on making a special guest appearance that night. He spent the whole day getting ready and of course we took the opportunity to ask him how he feels about letting Tommy violate his tight little boyhole on camera for everyone to see.
Was Max really able to take the whole thing balls deep for hours? Hmmm… does having a Cockyboys membership make you extra cocky? You can get 3 months of membership for the price of one right now!