Blogged in $1 Membership, Big Dicks, Circle Jerk Boys, Hardcore on March 13th, 2012


Tags: 1 dollar membership, big dicks, Circle Jerk Boys, Isaac Summers, Troy Montgomery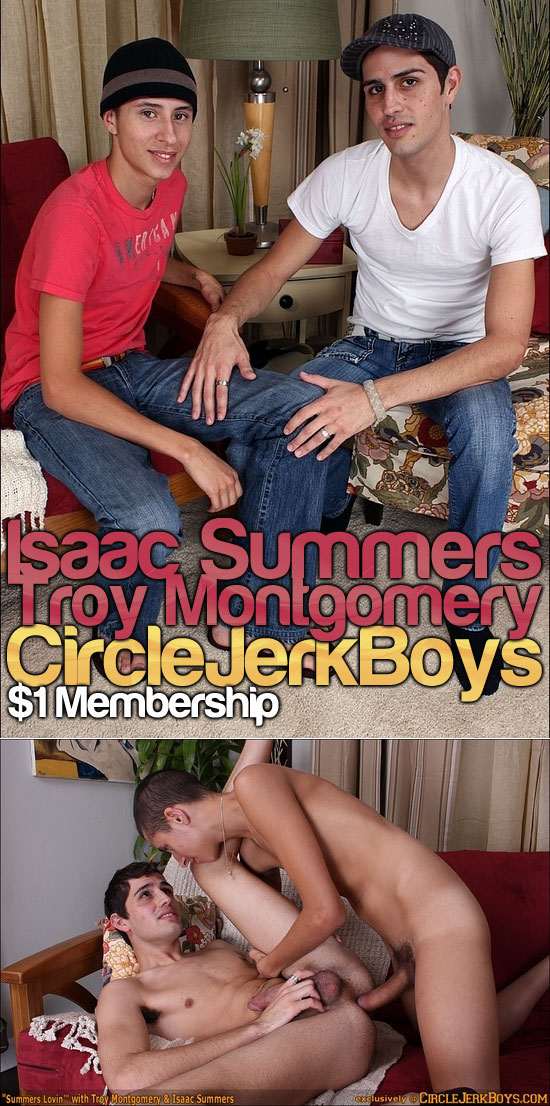 [flowplayer src='https://ilovejocks.com/vids/troy_isaac.flv' width=550 height=310 splash='https://ilovejocks.com/vids/flowplayer.jpg']
This week on Circle Jerk Boys we have two local faces with us that became instant fan-favorites the moment their clothes hit the studio floor. Hung hotties Troy Montgomery & Isaac Summers. Isaac explores north as he licks Troy's chest before finally landing a kiss on Troy's sexy full lips. Troy wants to return the favor as he gets Isaac to sit back as he slides off his pants and starts to lick at his tenting briefs.
Troy pulls them down and goes to work on Isaac's thick uncut meat. Isaac's naturally smooth and his thick cock is in good hands. Troy works his cock getting as much of it as he can down his throat, then coming back to lick all along his shaft and naturally smooth balls sending Isaac into over drive. While Isaac's nursing on Troy's meat his fingers begin to explore that hot ass he'll soon plow.
Isaac looks up at Troy's face as he watches him start to slide down on his thick meat. He aims that meat south and slides back inside him. He starts pounding Troy's hungry hole with ease as Troy takes it ball deep. Now Troy has access to his own dick that's screaming for attention. Isaac fucks Troy faster and deeper and it's only a matter of time before these two explode.
Without much ado Troy is sent over the edge with an ass crammed full of Isaac and sends jet after massive jet all over his face and chest. Isaac follows suit as he too douses an already cum-covered Troy with an even larger explosion of thick cum.