Blogged in Solo, Southern Strokes on February 21st, 2012


Tags: jerking off, Joey Vox, muscles, Solo, Southern Strokes, tight body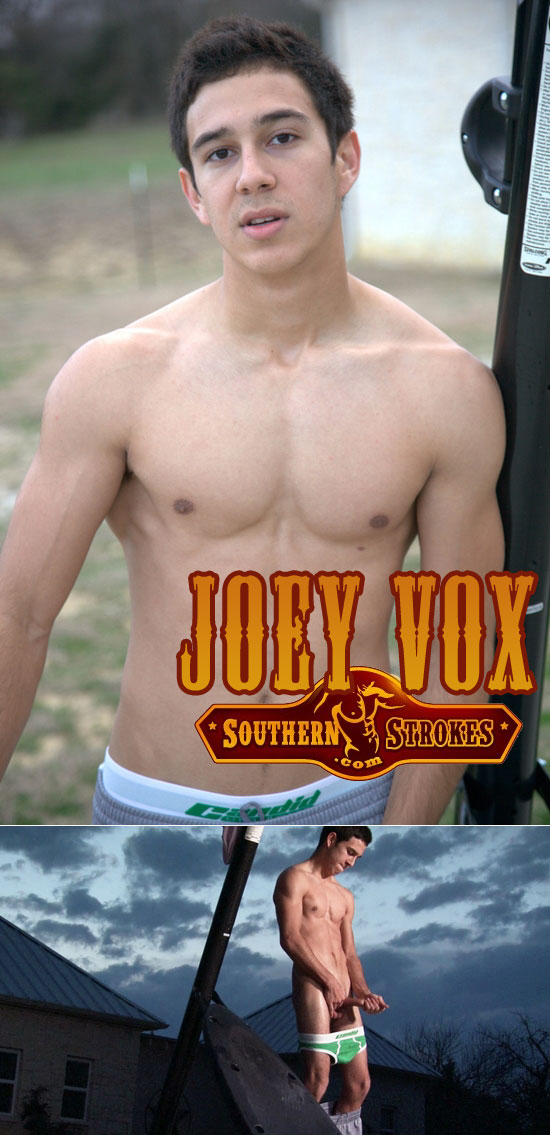 Joey was another one of those surprise visits to the Ranch. Our boy Haigan brought a buddy with him one weekend and low and behold 19 year old Joey steps out of the car. He had on a pair of jeans and a baggy shirt so I couldn't really get a good feel for his body so I had him remove his shirt. Needless to say, we asked him to stick around for a while.
A few hours later I caught Joey shooting some hoops outside so I decided to give his solo a shot. As you will see, we started the video in the early evening and we all got so caught up in Joey that it went well on into the night. Joey took off his shirt and sat back against the basketball frame and slowly started to stroke his big dick.
Joey took his time making sure that we all got a good view of his tight body. We asked Joey to tease us and that is exactly what he did….for about 3 hours. He likes to work his cock slow and easy with long strokes back and forth wit his thumb wiping the precum from the tip of his mushroom head. With every stroke, Joey's arms and chest would flex and pulsate right along with the shaft of his rod.
Joey wasn't about to stop until he had given us all a complete show. Keep in mind that he had been jacking off for a few hours so he was more than ready to explode. With all that being said, we were all still shocked when Joey drenched the basketball stand with a steady stream of young stud baby batter. We will make sure that there is plenty more of Joey to cum.