Blogged in Dirty Tony, Hardcore on February 11th, 2012


Tags: Dirty Tony, Krys Perez, Trent Atkins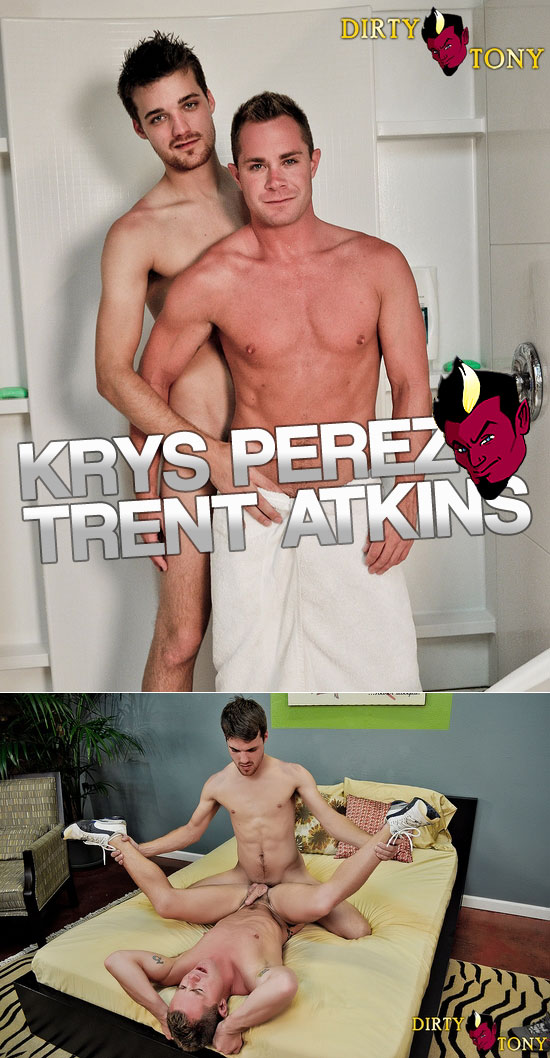 [flowplayer src='https://ilovejocks.com/vids/krys_trent.flv' width=550 height=310 splash='https://ilovejocks.com/vids/flowplayer.jpg']
Krys Perez and Trent Atkins decided to go for an innocent jog. They worked up quite a sweat and decided to take a little break. Trent got really turned on by Krys' man scent so they had a little make out session on the bridge. They wanted a little shade though, so they decided to find a quiet spot.
They found a spot underneath the bridge that seemed pretty secluded. After getting a little hotter, suddenly they were caught! They decided to go someplace a little safer, and ended up at my place. They got quite a bit more intense here, slowly peeling clothes off until Krys was blowing Trent. He licked his dick slowly and with a lot of spit, and soon Trent wanted to return the favor.
He pulled off Krys' shorts and underwear and threw him on the bed for a suck session of his own. Krys' long dick throbbed. Now he was ready to fuck! Trent eagerly jumped onto Krys' dick, and rode it pretty hard. He played with his dick and balls too. Then the boys switched to missionary so they could be a little closer, sweetly kissing the whole time. Then Krys flipped Trent on his back and started pounding again.
Trent was ready to blow at this point, so he let it rip. He shot a huge sticky load all over his chest. Then Krys wanted to make Trent eat his load, so he shot all over Trent's face. He eagerly lapped up some of it, then sucked him a little bit more. After that exhausting session, the boys took off before I got back. I wish they had stuck around longer!