Blogged in $1 Membership, Circle Jerk Boys, Hardcore on February 11th, 2012


Tags: 1 dollar membership, AJ Banks, Circle Jerk Boys, Devin Adams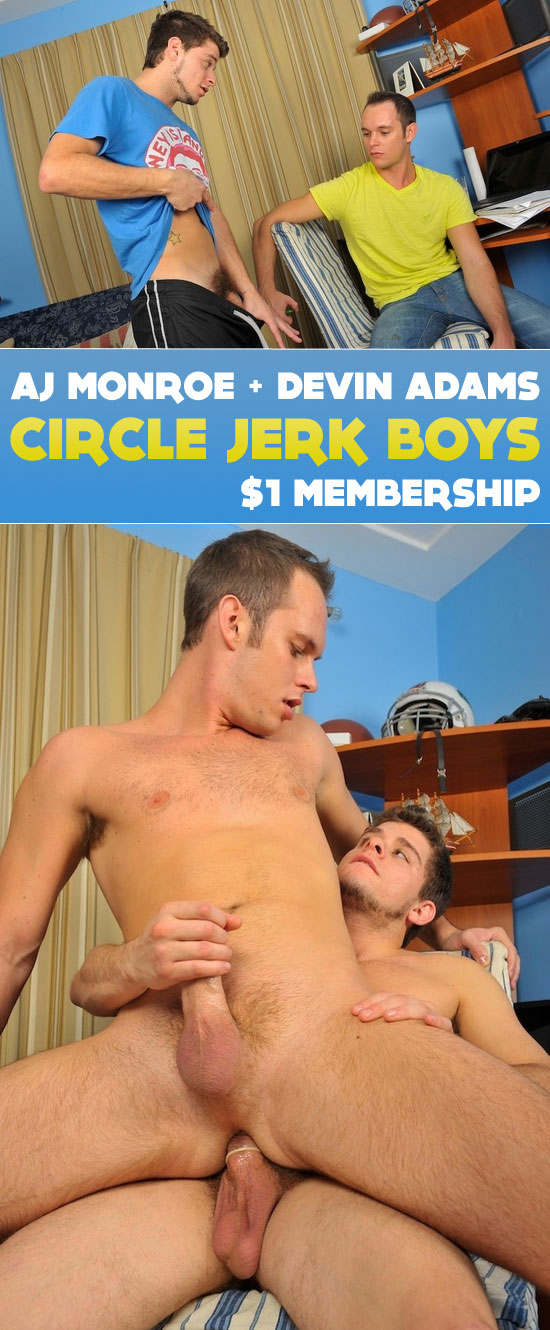 [flowplayer src='https://ilovejocks.com/vids/devin_aj.flv' width=550 height=310 splash='https://ilovejocks.com/vids/flowplayer.jpg']
AJ Banks  (aka AJ Monroe) is back on Circle Jerk Boys and here to help us welcome sexy, newcomer Devin Adams to the circle. Devin is workin on his homework when AJ walks in and asks him for a Band-Aid. When Devin asks him what for AJ pulls down his shorts and shows him. Devin sees the small nick at the base of AJ's cock and tells him he doesn't have a Band-Aid but he could kiss it to make it better.
AJ grins as Devin goes in for a kiss making it a French one as he starts to suck on AJ's growing cock. AJ holds Devin's head as he slowly fucks that handsome face until Devin's dick is screaming for attention. He hauls out his own dick for AJ who goes for it, shoving that dick so far down his throat he gags on it. "Yeah, you like that big dick?" Devin coos as AJ worships his meat and smooth nuts.
They take turns sucking on each others cocks until Devin gets horny for more. AJ suits up and sits back as Devin straddles his dick and starts to ride it. He takes that co! ck to the hilt and goes for it. Devin gets AJ so hard he has to slow down. AJ then wants more control so he bends Devin over the same chair. "Fuck my ass, yeah" Devin begs with that sexy voice of his. AJ's balls slap away at Devin's ass as Devin, taking it doggy style just begs for more.
Devin then gets on his back so he can watch as AJ pounds his ass harder and deeper. That does the trick and soon Devin can't hold off any more. He starts to nut as AJ pounds him harder. He coats his smooth chest and abs as AJ pulls out and goes for his. AJ jacks his throbbing cock until he shoots a huge load all over Devin drenching everything from his shoulder all the way down to his cum-coated cock. Anyone else need a Band-Aid?
++ AJ Banks and Devin Adams for Big Dicks At School
++ AJ Banks and Devin Adams for Badpuppy