Blogged in Broke Straight Boys, Threesome, Trial Membership on January 8th, 2012


Tags: Anthony, Bobby, Broke Straight Boys, Conner, straight guys, threesome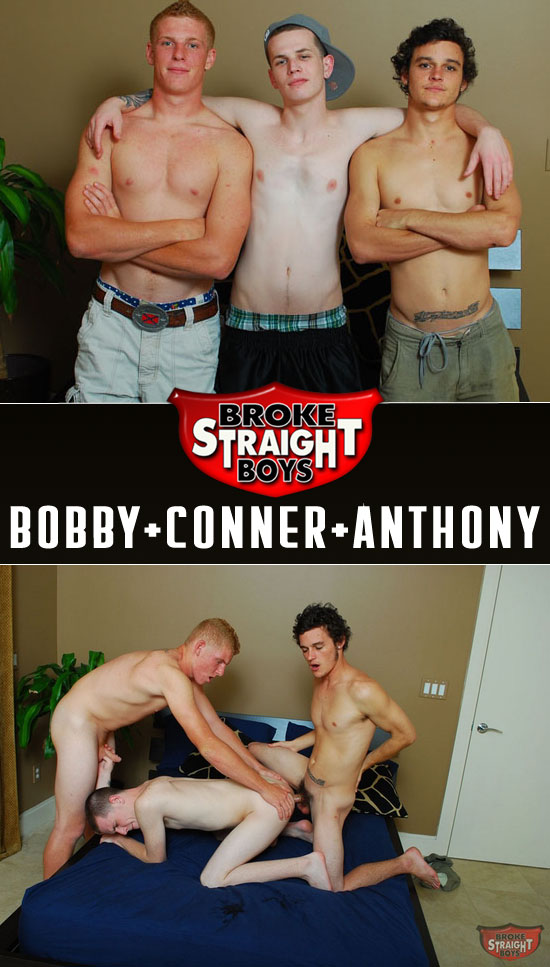 There are three hot boys in bed together today; Bobby, Anthony and Connor. Right away, it was easy to see that the three boys were pretty friendly with each other so it promised a fairly raunchy shoot. As the boys laughed and joked around with each other, they stood up and started stripping off their clothes. Once naked, Bobby and Anthony tugged on their cocks as they watched some straight porn, while Connor did the same just to one side.
A moment or two later, Connor threw himself onto the bed and invited the others to join him. Bobby had the great idea of playing 'Ring around the Rosie' which in the Broke Straight Boy's studio simply meant a daisy chain of cock sucking.
Bobby, Connor and Anthony arranged themselves in a circle on the bed, each boy with a cock pointing straight up at their face. As one, the three of them opened up wide and swallowed down the cock in front of them; Bobby sucking on Connor while Connor lathed Anthony's dick even as Anthony wrapped his lips around Bobby's cock head. Up and down.. up and down three heads bobbed as the boys sucked on the cocks in their mouths.
There was no doubt that each of them was loving the feel of a hot, wet mouth wrapped around their dick but even as they relished the attention, they still had to work hard at the task at hand. Bobby, Anthony and Connor were, by now, cock sucking professionals and as they worked their magic, there was three very stiff dicks in the room.
Every once in a while, one of the boys would pause for a brief moment in order to gather their breathe, giving the cock a few quick pumps even as they rested their overworked jaw before leaning back down and lavishing the hard dick with attention again. Continue reading…