Blogged in $1 Membership, Big Dicks At School, Hardcore, Men.Com on January 30th, 2012


Tags: 1 dollar membership, Big Dicks At School, Bryce Star, John Magnum, Men.com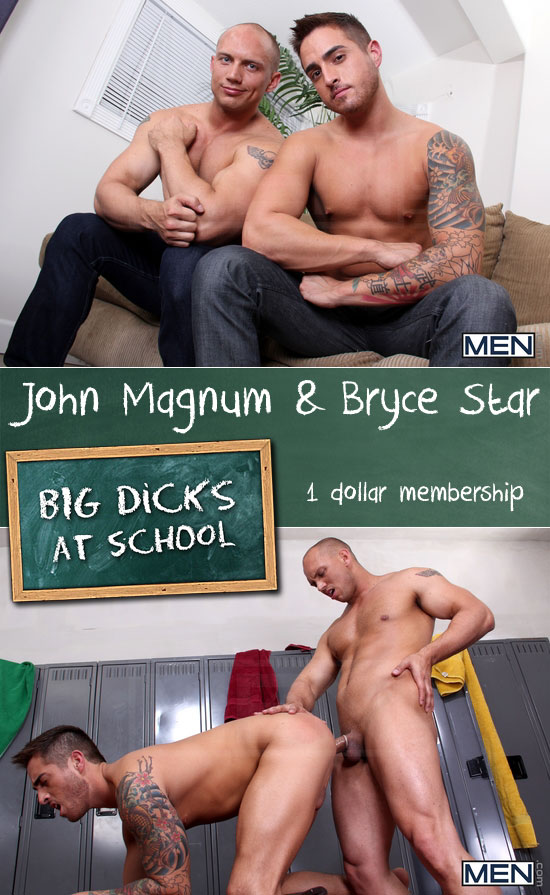 [flowplayer src='https://ilovejocks.com/vids/john_bryce.mp4′ width=550 height=310 splash='https://ilovejocks.com/vids/flowplayer.jpg']
We've all heard some things about the psychology of a bully, right? I think I remember people saying that they're just insecure, that they're trying to distract from their own fears, that secretly they like you. Well, I guess that is definitely true in the case John Magnum and Bryce Star in this hardcore ass fuck video from the guys at Big Dicks At School!
John Magnum is the real bully boy, always picking on Bryce Star and humiliating the poor guy. He can't go anywhere or do anything without that jock catching him out. But you know what they say, once you stand up to a bully you can really solve the problem in a single day. And I guess that's what Bryce Star decided to do.
When he's finally had enough of that big muscled jock pushing him around he totally snaps, and he finds out just why he's been the target of the jocks attentions for so long. The handsome inked Star has the guy right where he wants him, and he finds that muscled jock cock hard and throbbing for his hole!
Anger turns to incredible cum lust as their mouths meet, their tongues groping for each other, their hands roaming all over those muscled physiques until they find solid dick to ease out and jack off.
The locker room is soon filled with the sounds of their hunger as they devour each others solid manhood, with John Magnum feeding his former victim his juicy jock cock and then tasting that boys prick on his tongue.
But there's a whole lot more for these dudes to enjoy as John rimms that tight hole and preps it for his shaft, before sliding all those thick inches of jock cock right in there, fucking Bryce deep and hard!
I was never bullied in school, but the thought of having some of the guys who were bullies to the other boys shooting their cum loads over me after slamming my hole like John does to Bryce makes my cock twitch!