Blogged in Colt Studio Group, Hardcore on December 26th, 2011


Tags: Casey Williams, COLT, Marc Dylan, outdoors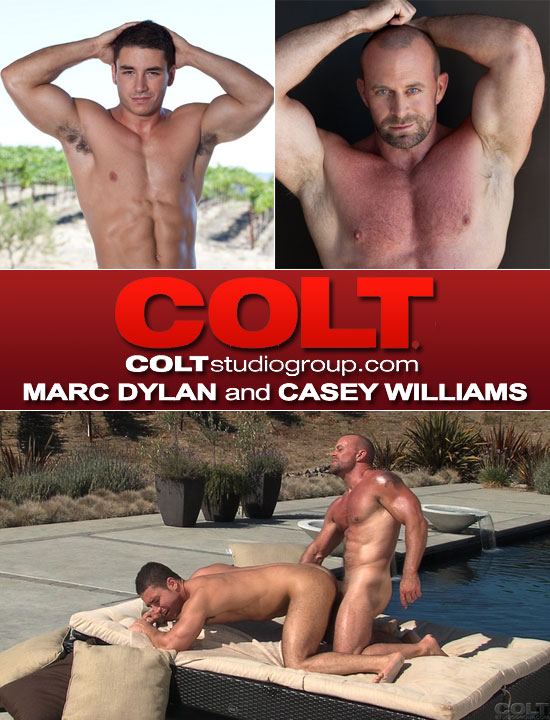 [flowplayer src='https://ilovejocks.com/vids/marc_casey.flv' width=550 height=310 splash='https://ilovejocks.com/vids/flowplayer.jpg' popup='<a href="http://www.429mediagroup.com/jump.php?m=coltstudiogroup" target="_blank" title="Casey Williams fucks Marc Dylan">Click here to watch the full length video</a>']
Rippling blue water and rippling hard muscles, Marc Dylan (more  Marc Dylan) appears like an intoxicating muscled mirage as he reclines along the edge of the pool. With his hard meat springing out of his tight swim suit muscle-stud Casey Williams wades into the pool for a hot man-on-man encounter.
The swim suits are peeled away as their hard bodies and hard cocks come together for a real MANPOWER exchange. Kissing, stroking and manhandling each other they lose themselves in the pleasure of each other's thick juicy cocks.
Marc lays back and opens his legs wide, exposing his hot man-hole for Casey to probe with his tongue. "C'mon! Get it wet" "Put your tongue in there" Marc begs as Casey feasts on his hot muscled ass. Leaning in for an open mouthed kiss Casey lets his cock rub up against that hot and wet fuck-hole.
"C'mon! Give me that dick" "Fuck me Hard" Marc moans as Casey penetrates him deep. Marc spreads his legs wide and takes every inch to the hilt. Casey drives that ass hard, drilling Marc from behind as he power fucks that ass.
When the juices are ready to burst Marc and Casey lay side by side, stroking and kissing as wave after wave of cum erupts. The flood gates are open as Marc releases his load setting off a chain reaction of flying cum as Casey follows suit, exchanging their thick creamy loads as they shoot across each other's sweat soaked bodies.