Blogged in Hard Brit Lads, Hardcore, Orgy on October 21st, 2011


Tags: big cocks, gangbang, Hard Brit Lads, Justin Harris, Leo Helios, Luke Desmond, Matt Brooks, orgy, uk jocks, uncut cocks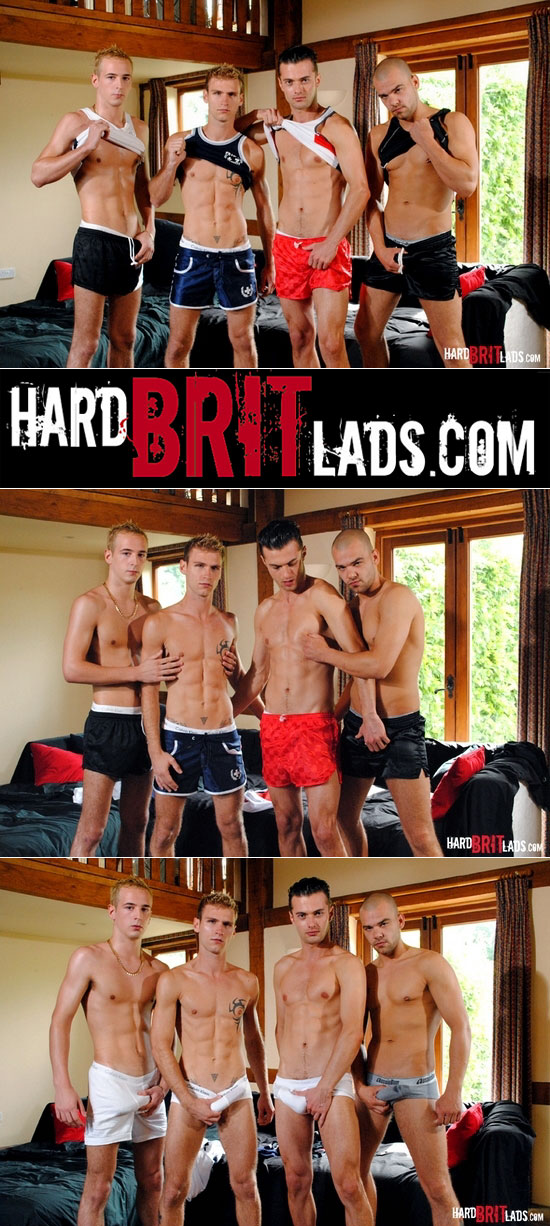 I have done something really special here, and done what several of you have been asking for.. and finally, here it is… a gangbang! Yes, Ive put four of the most popular lads from HardBritLads together, all of whom love group sex, and the result is so fucking incredible, trust me, youll be downloading this one to keep forever.
We have super-hung tall young nine inch stunner Luke Desmond, who everyone loves. We have sexy beefy hard lad Matt Brooks, with his thick meaty cock. We have the seriously hot newbie Leo Helios, who completely oozes sex, and takes it as well as he gives it. Finally, handsome fit power bottom Justin Harris, who gets a seriously intense and unforgetable pounding and arse stretching.
Huge cocks, deepthroat, powerfucking, spit roasting, chain fucking, and finally… double penetration.. Not only does Justin take two cocks up his arse, one of them is Luke Desmonds thick 9 incher.. The GangBang ends with Luke getting a massive facefull and mouthfull of hot spunk as the other three all squirt their huge heavy loads over his face and into his mouth.
We start off with all the lads kissing and groping, stiffies throbbing inside their shiny sports shorts. They all rub and squeeze each others hard bulges, then take off their tops to lick suck nipples as they grope. Justin gets down onto his knees, pulling Matts shorts down, revealing a super thick bulge straining inside his tight briefs, moist with precum. He takes out Matts rock solid extra thick girthy dick, and starts to suck, then gets face fucked. With their solid dicks poking out the side of their undies, Luke and Leo get their cocks out, and all three lads take turns getting sucked by Justin.
Then Justin stands, his cock throbbing and moist with precum, and kisses Matt, and Luke squats down to suck Matt, as he jerks off his massive nine incher and Leo gets down to suck Justin. Leo demonstates his impressive deepthroat skills, as he effortlessly swallows Justins cock right down to his balls, and gets his throat fucked.
Then Matt and Luke switch round, with Matt getting onto his knees to suck Luke, as Leo continues sucking Justin. Matt proves he is the most talented sucker of all, by managing to deepthroat ALL of Lukes solid nine inches.. You dont wanna miss this.. Unbelievably horny.
They move to the sofa, and lay on their sides, in a line, each guy sucking the next, Matt sucking Luke, who in turn is sucking Leo, who sucks Justin. We have some great shots here, with all three cocks being sucked filling the frame. Matt does more incredible deepthroat, swallowing all nine inches, but straining to keep it down. Eyewatering.
Next, face fucking as Matt and Justin stand and Luke and Leo gets their mouths and throats seriously fucked, whilst they jerk off their throbbing cocks. Leo can't quite open wide enough to take the base of Matts thick girthy dick, but he has a damn good try, and Matt is pretty brutal in forcing his dick as far down Leos throat as he can.
Sucking always makes Luke rock hard, so having sucked plenty, he stands to have his turn. Justin gets on to his knees, and gets Lukes monstercock really wet with plenty of spit, and sucks him long and slow, then it gets harder as Luke starts fucking Justins face.
Laying back on the sofa, Leo and Justin open their mouths wide, as Luke and Matt climb on top of them to throat fuck them a different way, WIth his smooth muscular rugby butt in the air, Matt squats over Leo, plunging his cock into his mouth, this time managing to get his throbbing fat fuck pole all the way down Leos throat.
By this time the lads are all gagging to fuck.. Then bend Justin over to suck Leo, who is sucking Luke, and Matt pulls Justins peachy arse cheeks apart and licks his hairless hole, gets it really wet, then pushes his tongue inside…